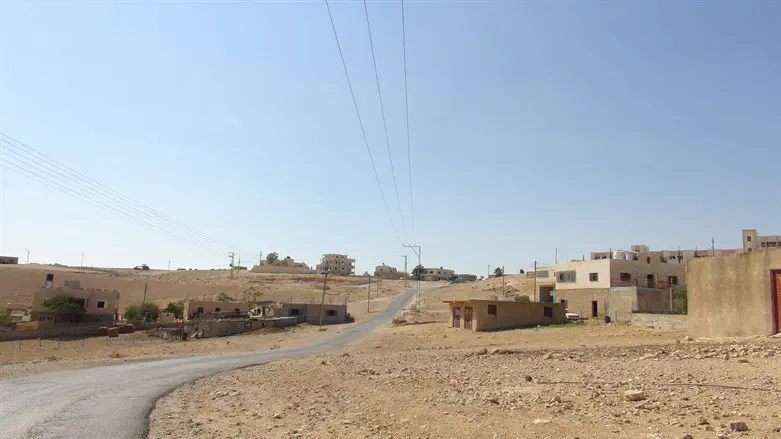 Illegal Palestinian Arab construction in Area C
Israel National News
The Palestinian Authority's (PA) foreign affairs bureau condemned Prime Minister Benjamin Netanyahu's comments regarding the illegal Palestinian construction in Area C.
Netanyahu said this week, "Since the beginning of the month, the security establishment has evacuated 38 illegal Palestinian buildings in the territories of Judea and Samaria. The situation in which Palestinians rampantly build illegally in an attempt to establish facts on the ground - is over."
In a statement, the PA's foreign bureau said that "Netanyahu's words do not express only an attempt to please his coalition partners from the extreme right, but are official incitement aimed at the relevant occupation arms so that they escalate the open war they are waging against the Palestinian existence in all its aspects in these areas."
"The attempt to protest the Palestinian presence in Jerusalem and the Palestinian territories through the procedures and measures of the occupying state is not limited only to demolitions, but includes large-scale ethnic cleansing operations, as is clearly happening in Masafer Yatta, the Jordan Valley, Khan al-Ahmar and Jerusalem," the statement reads.
The PA foreign bureau also claimed that "the occupying state is not satisfied with these crimes, but imposes its control over all the Palestinian territories, takes them over and gives the green light to the settler organizations to loot and steal them, to fence off large areas from them and to allocate them as strategic depth, to deepen and expand the Israeli settlements further, and to pave additional settlement roads that connect these colonies to each other in order to turn them into a bloc of settlements."
The bureau called the actions "the most heinous war crime", "a crime against humanity" and "a violation of international law, the Geneva Convention and the signed agreements".