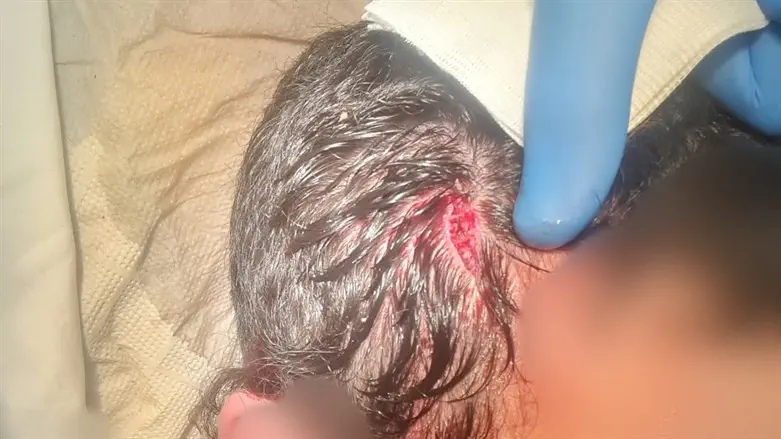 The stabbing victim
Courtesy
Attorney Chaim Bleicher from the Honenu organization sent a letter to IDF Central Command Chief Major General Yehuda Fuchs and Judea and Samaria District Police Chief Deputy Commissioner Uzi Cohen after he discovered that an assailant who stabbed a Jew who was shopping in the Arab village of Dir Qadis was arrested by police but released on restrictive conditions.
In his letter, Bleicher describes the attack during which the Jew was stabbed: "My client traveled with two friends to go shopping in the village. While shopping, minorities who live in the area gathered around them and began cursing and pushing them. My client and his friends attempted to speak with the attackers, but they continued to yell, and one even threatened my client: 'l'll kill you.' Later, more and more minorities came and stood around them, and a group of about five literally attacked the victim and his friends, kicking and punching them. At one point, one of the rioters pulled out a screwdriver and began stabbing my client in the head. When he noticed that he was being stabbed, my client grabbed his own weapon. This caused the rioters to back off, and my client's life was saved at the last moment."
The attorney points out that the victim gave the police a photograph of the attacker but discovered that he had been released. "A picture of the terrorist who stabbed the victim was given to the police by my client and his friends at the Modiin Ilit police station, where my client was informed that the terrorist was caught. To my client's surprise, we just received an update that the terrorist was released; this is serious neglect. I request that my submission is investigated immediately, that the terrorist is returned to custody until the end of proceedings, and to bring him to justice.
The release of the terrorist shows neglect and is a severe hit to the immediate security and the general feeling of security among all Israelis. It is unbelievable that a terrorist who stabbed a Jew is released a few days later. We expect that the ministers and decision makers will work towards the immediate arrest of the terrorist and his partners before its too late," Bleicher concludes.