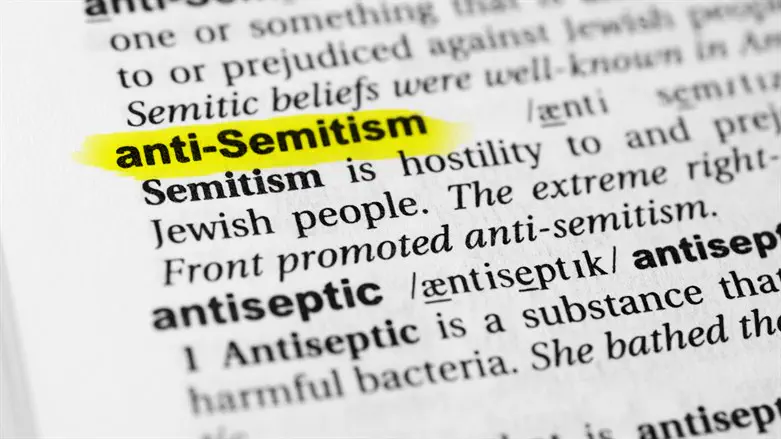 Definition of anti-Semitism and anti-Semite
iStock
Fighting Online Antisemitism (FOA) is releasing data regarding the removal of antisemitic content on the most popular social networking sites. According to the data, the organization reports that Facebook (Meta) removes the largest amount of antisemitic content published on its platform.
Facebook has removed 35% of the antisemitic content monitored and reported to it by FOA during the past year. According to the "Friendly Networks" measure, TikTok has removed 33% of its antisemitic content. In fact, Facebook increased its annual removal of antisemitic content from 23% to 35% compared to 2021, while the TikTok network maintained a similar percentage. Along with Instagram, Meta has the highest removal rate, with a total of approximately 52% of all content monitored by the traffic monitoring system.
The new social network, GAB, founded in 2016 as an alternative to Twitter, is at the bottom of the table with a removal rate of only 5%. Over 10,000 subscribers join the network every hour, according to GAB's latest publications. One of the most prominent activists in this group was Robert Bowers, an American citizen, who carried out the massacre at the synagogue in Pittsburgh, Pennsylvania, in the year 2018, killing 11 people who were praying there at the time.
According to Barak Aharon, association director of monitoring and training, the association's reporting activity is carried out both by volunteers directly to the social network, as well as in a proactive and coordinated fashion by the association's staff to the responsible parties within each network. In contrast to other networks with which we maintain continuous contact, GAB does not respond to our requests to remove content. It has been observed that Telegram, the second least cooperative network, with a removal percentage of 9%, is significantly improving in terms of content removal since the beginning of the year and we anticipate that this trend will continue in 2023.
Despite the fact that a relatively new social network is gaining momentum, it does not adequately respond to reports of antisemitic content. "The concept of freedom of expression does not mean that there should be no boundaries or clarifications regarding what is permitted and what is not permitted in the online space," Tomer Aldubi, founder and CEO of FOA, explains.
This network has only been monitored this year with the understanding that, as we have seen in the past, the next hazard may come from there. Any antisemitic content that is distributed on the social network poses a real threat and needs to be addressed immediately, as happened in previous events in 2022."
"The social networks continue to cooperate with us in removing antisemitic content from their platforms at the same time, and we welcome this cooperation. Tomer continues, "I hope that the ranking of the leading networks in the reports will encourage them to continue removing any antisemitic advertising."