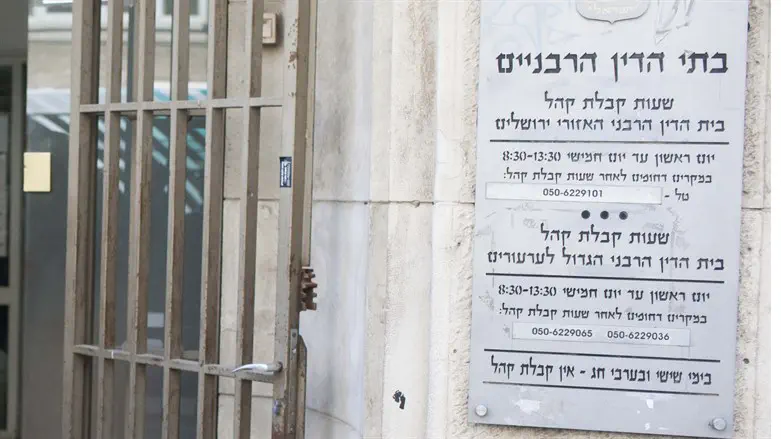 Rabbinic Court in Jerusalem
Yonatan Sindel/Flash90
The President of the Great Rabbinic Court and Chief Rabbi of Israel, Rabbi David Lau, announced on Sunday that he has ordered the rabbinic courts and court directors that every district court will have a "judge on-call."
Today, urgent requests submitted to the courts after hearing hours are handled by the court's workers, and a need has risen to set a standard procedure for a "judge on-call" in every court.
The judges on-call will handle urgent requests regarding stay-of-exit orders, attachment orders, and restraining orders.
Rabbi Lau states at the beginning of the order: "I am closely familiar with the dedication of Israel's rabbinic judges to give ample service to those who come to their courts, service that is given at all hours of the day.
In light of the need to organize the existing situation and to ensure that urgent help is given beyond the courts' hours of operation when needed, I am instructing that a procedure will be standardized for a judge on call in all district courts."
In his instruction to the court, Rabbi Lay adds that the cases that need the assistance of a judge on duty will continue to be discussed by the permanent lineup of judges that judge it, in accordance with the instructions of the president of the court.
The rabbi concludes that the court director will publish a detailed procedure for submitting an urgent request to the court secretary.