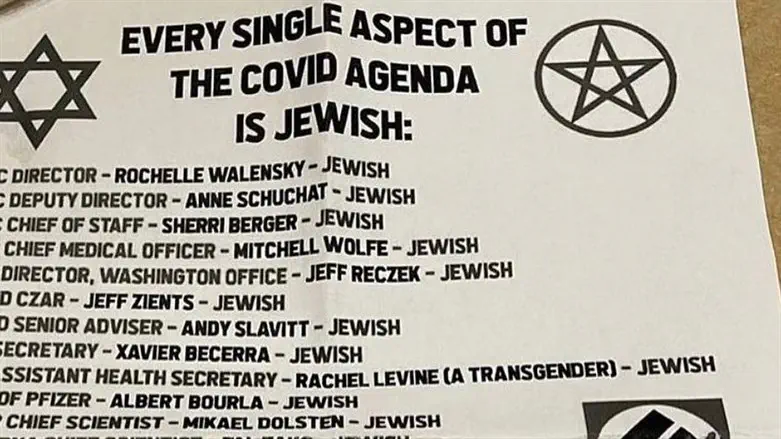 antisemitic flyer
Screenshot
Antisemitic incidents on American college campuses have surged by 50% since the start of the academic school year, according to data published by the Jewish Agency.
Yediot Aharonot reported that according to the data presented at the conference of the Israeli-American community organization IAC, in recent months there were 230 antisemitic incidents on campuses across the US, compared to 160 in the same period the previous year.
At the conference, dozens of Israeli emissaries to universities and colleges in the US gave evidence about the surge of antisemitism. Or Bar Noi, who serves as an emissary at the University of Michigan, said that flyers scattered in various neighborhoods claimed that the coronavirus pandemic was a Jewish conspiracy and that the Jews had taken over the media.
Orit Izilov, the agency's representative at UC Davis, said that she discovered huge signs on campus claiming that "the Holocaust is a lie made up against whites, and that communism is a Jewish conspiracy."
Nati Shchupek, director of the agency's campus envoys, states that "antisemitic incidents are not a new phenomenon on campuses, but in recent months there has been a dramatic radicalization, with antisemitism coming both from the left - from pro-Palestinian progressive groups, and from the right - from fascist groups, and the incidents are unusual in both their quantity and nature."