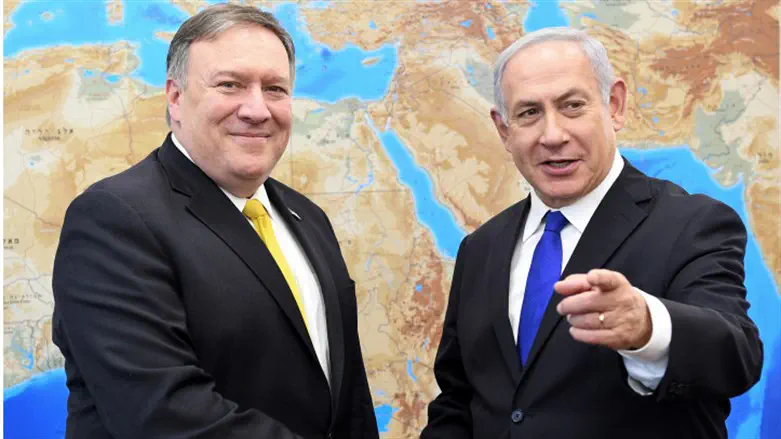 Mike Pompeo with Binyamin Netanyahu
Matty Stern/U.S. Embassy Tel Avi
In his new memoir set to be released on Tuesday, former United States Secretary of State Mike Pompeo writes that the US relationship with Israel is exceptionally important, even more so than those with the United Kingdom, according to a report by The Foward, who obtained an advance copy of the book.
At the same time, the former official also accuses Benjamin Netanyahu of skewing the US administration's commitment to the security of Israel for political gain and by inciting anxiety.
According to the report, Pompeo writes that Netanyahu purposely leaked a nonexistent pledge to advance a formal defense treaty between the US and Israel for political reasons. Pompeo writes that the Israeli announcement following a hastily planned 90-minute meeting between the two in Lisbon, Portugal, in December 2019 "was false." Adding, "But it was a good story for him." Netanyahu was in the midst of the second of three consecutive and contentious Israeli election campaigns that year and was also lobbying for approval of his plan to annex parts of Judea and Samaria.
Pompeo claims that Netanyahu requested the 2019 meeting because he was "worried" that Jared Kushner, former President Donald Trump's son-in-law and senior adviser who was in the final stages of releasing the administration's Middle East peace plan, was "too willing to give up on Jerusalem." Pompeo and his senior adviser Brian Hook were part of the US team working on the plan.
In the book, the former Secretary of State suggests that "America's real special relationship may be the one we have with Israel" because its survival "matters for the security and prosperity of every American."
Pompeo writes that he was inspired by the story of Israel's founding and "resolved to leave it even stronger than I found it."
Pompeo also calls out the former US ambassador to the UN and 2024 presidential hopeful Nikki Haley, writing, "She gave fine remarks about Israel, but didn't do much else," describing the job as "far less important than people think."
He called her resignation an abandonment of national security interests when it was most needed. "She has described her role as going toe-to-toe with tyrants," Pompeo writes. "If so, then why would she quit such an important job at such an important time?"
In a Fox News interview, Haley dismissed the criticism as "lies and gossip to sell a book". "I don't know why he said it, but that's exactly why I stayed out of DC as much as possible, to get away from the drama," she stated.