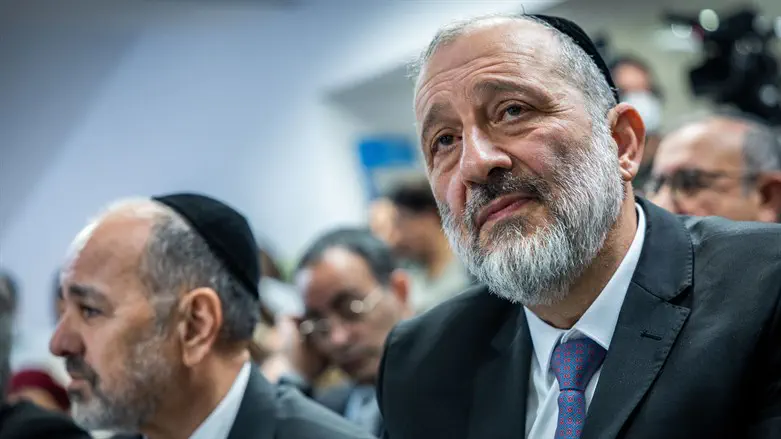 Aryeh Deri
צילום: יונתן זינדל, פלאש 90
Israeli Prime Minister Benjamin Netanyahu is planning on firing Interior Minister and Health Minister Aryeh Deri (Shas) from his government in keeping with a Supreme Court ruling, though the implementation of the ruling will be delayed until replacements have been selected, Channel 13 reported Friday morning.
According to the report, Netanyahu plans to adhere to Wednesday's bombshell ruling by the Supreme Court, which used the reasonableness standard to strike down Deri's appointment as a government minister.
The reasonableness standard, which was never codified into Israeli law by the Knesset, was borrowed from the British legal system, and was used with growing frequency by courts in the 1990s and 2000s to challenge administration decisions.
Wednesday's ruling sparked a backlash from the coalition and its supporters, who accused the court of negating Israeli democracy.
Netanyahu, however, is poised to uphold the ruling, Channel 13 reported, after Attorney General Gali Baharav-Miara instructed him Thursday to find alternative ministers for the Health and Interior ministries, in order to adhere to the court order.
While Netanyahu is expected to remove Deri, should the Shas chief refuse to step down – as he stated prior to the ruling – Deri will remain in office until replacement ministers have been selected.
The Prime Minister is currently unable to assume additional positions – even within his own government – due to his indictments and ongoing trial in the Case 1000, Case 2000, and Case 4000 corruption cases.
In January 2020, Netanyahu resigned from multiple ministry positions he held in addition to the premiership, after the Supreme Court agreed to hear a petition arguing that cabinet ministers cannot serve while under indictment.
As a result, Deri's removal from office cannot take place until replacements have been found for both the Health and Interior portfolios.
According to the report, Netanyahu is expected to select alternative ministers by next week at the latest.