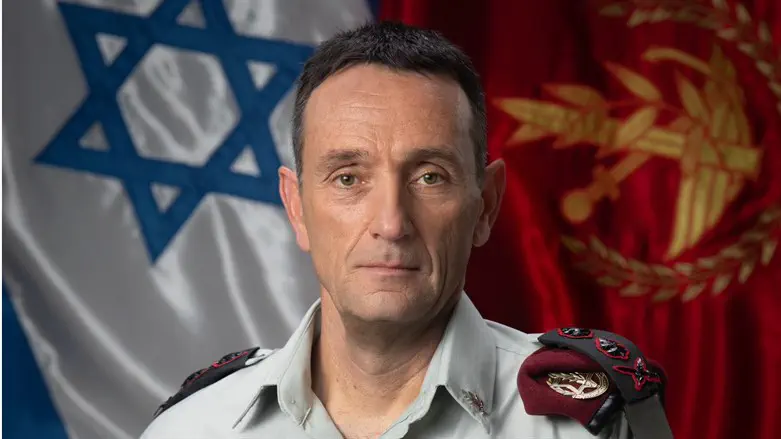 CםS Herzi Halevi
IDF Spokesperson
Today, I assume command of the Israel Defense Forces, defender of the State of Israel and its citizens. When I enlisted, standing at the gates of the IDF induction center like every new recruit, I did not anticipate this long journey. Looking back, I realize that every position I served in over the 37 years of my service contributed to this moment, the moment in which I am granted the privilege of being commander of the IDF.
From childhood, I was taught the value of public service and love of this state, its people and its land. In my parents' home, where my values were formed by my father Shlomo z"l and Lena, my mother and mentor who is here with us, I was taught to serve the public with integrity. I walked the trails and streams of this country as a young boy, grew older, and went the length of its borders and beyond them as a soldier and commander.
The shining lights of Israeli communities, to someone who sees them from afar as he returns from an IDF operation in enemy territory, give rise to feelings of pride and faith in the righteousness of our path; the return home with empty places in the lines that soldiers once filled is engraved on the soul of every commander who knows that taking the initiative and facing dangers are necessary to keep the oath to guard the security of the state.
The highest price of all is paid by the bereaved families of the fallen. Some of them are here today, families who lost their most dear, who have continued on with me – and I with them – for many years. Our bereaved families, those wounded in body and soul, the prisoners of war and the missing in action and their families are the constant reminder of the great responsibility placed on our shoulders to act courageously and in well-balanced ways - and to always stand at your side. To our sorrow, more names were added to the list of IDF fallen soldiers over the past few days. We join in consoling the bereaved families and are committed to doing everything in our power to understand more, learn more and prevent losses.
In the 75 years of our independence we have transformed from a state surrounded by enemies to a country that surrounds its enemies with its strength and advanced capabilities. Our environment, however, is still replete with many and varied threats. These range from Iran, where Israel has a crucial responsibility in helping reach resolution, through the northern border, the Gaza Strip, and the challenges in Judea and Samaria. Our providing solutions to these threats lies in our military superiority, deterrence, advanced capabilities and competence.
Let our enemies note: We are able to do what we say and we are prepared to do much more than what we say.
Three factors are decisive in establishing the results of war, the main proving ground of an army:
-Your knowledge of the enemy
-The power of the means and abilities at your service
-And above all – the quality of the people who are with you
In this spirit we will continue to build the IDF as a modern army of quality, one that encourages the best to join its ranks, acts in a technologically rich space and synthesizes available knowledge, maintains the ability to attack and maneuver as one powerful unit.
The IDF's ability to act is dependent on our steadfast nation. Those serving in the reserves and regular forces are part of the wonderful Zionist enterprise from its early days – a defensive security shield and a catalyst in building the land and the nation. Every young person enlisting in the IDF ends his service an adult who contributes to society and the economy, and each strengthens the unbreakable connection between the army and the people, the foundation of our military and national power.
The 32nd Chief of the General Staff most likely began his Officers' Training Course last week. We do not know who he will be, but it is our duty as commanders to place our very best trainees at the head of the line. Without them, it will be difficult to continue what has not yet been completed. We need ethical, wise and brave people. We do not know who his parents are, but we know that he can come from all the sectors of Israeli society. The uniqueness of the IDF is that it was, and still is, a mosaic of Israeli society.
My family, too, has roots around the world. My wife Sharon's parents, Alya and Avraham, made aliya from Casablanca. My grandparents, Tzila and Chaim Shalom came from Russia, and my mother Lena is the 14th generation of her family to be Jerusalemites. The State of Israel is home to the entire Jewish nation, and under its wide roof there is room and equal rights for every person who accepts its burden and is willing to give of himself for its welfare. I do not know who the 32nd CoS will be, but I am sure that if he is moral and professional, if he masters the art of command and learns to lead his forces towards their objective, everyone will follow his lead without asking where he was born and raised.
When I was a Jerusalem youngster in the Religious Scouts group "Massuot," we lit inscriptions in fire and shouted "be prepared!". Today, with modesty and humility, I am ready to take my place in the chain of Commanders in Chief who preceded me. To each of them there is a place in the history of the State of Israel and I will refer to two of them today. As the jubilee year since the Yom Kippur War begins, I wish to remember Lt. Gen David Elazar, Dado, commander of the IDF during one of its most difficult tests. Dado did not choose the hour, but his leadership became a testing ground.
And special thanks to you, Lieutenant General Aviv Kochavi, for the years you were my commander, and for the years I was your colleague; I learned so much from you, and I can testify from close quarters that at every moment in your 40 years of service, and especially in the last four, you were dedicated to one noble goal: the security of the country. Everything you have built will be preserved, strengthened, developed, and, when necessary, altered.
As a link in the chain, I assume the command of the IDF, knowing that there are others with whom I can share this great mission, my colleagues in the General Staff. We have grown and developed together, and together we will continue to build the IDF.
IDF commanders, enlisted soldiers and reservists – you are the unique building blocks of this wonderful edifice, and with you we will continue to build and adapt. We will prepare the IDF for wars in near and distant arenas, we will expand enlistment of quality recruits to include all the sectors of Israeli society, the source of our power. We will strengthen the reserve troops and maintain a united, ethical, professional and dedicated IDF, free of all nonsecurity-centered considerations.
Our partners in the Intelligence and Security corps, my colleagues who head these branches, the secret of our power is in cooperation, in sharing information and knowledge, in our common goal. We will operate in the way we believe is correct, and if we err, will be sure to learn from our mistakes and continue to climb higher, because learning is the only consolation for those who err – and the very soul of a successful IDF.
This past Shabbat, the Jewish world went from reading the Book of Genesis to reading the Book of Exodus, from the story of a family to the story of a nation. The nation arose, and with it a threat, as Pharaoh commanded: "Every son that is born is to be thrown into the Nile." In answer to this threat, Moses is appointed leader, and his actions upon leaving Pharaoh's palace to find his brothers teach us three simple and vital things about leadership:
"He saw their suffering" – a worthy commander shares his soldiers' destiny;
"And he hid him in the sand" - Moses initiates and acts against a person who attacks one of his people;
"And he said to the wicked one, why do you attack your friend?" - Moses differentiates good from evil, and separates two adversaries who are members of his people.
My wish is that we, the IDF commanders, fulfill those principles with courage and humility.
הרצי הלוי ורעייתו
צילום: ALEX KOLOMOISKY/POOL
In closing, I would like to thank Prime Minister Binyamin Netanyahu, and Minister of DefenseYoav Galant, who have just granted me the rank of Commander in Chief, and to Lt. Gen. Benny Gantz who chose me from among three worthy candidates. My thanks to all of you for your faith in me. We are guided by the government's decisions and they will light our way all hours of the day and night.
Thanks to my late father z"l, to my mother, brother and sister, to my entire family and friends. I thank my children, Calil, Lia, Itai and Yoav with all my heart – you are the source of my pride, the catalysts of my actions, and a quiet corner of tranquility and "naches' for me.
"Two are better than one and therefore a man must find a friend and a wife, [said Kohelet]" – I find both of these in you, Sharon – thank you for the past and future that meet here today.
"Rock of Israel and its Redeemer, bless the State of Israel… and send your light and truth to its leaders, ministers and advisers" – these are the first words of the prayer for the peace of our country. And I, honored to have been appointed by the nation's leaders, ministers and advisors, pledge to be a worthy partner to them and to strengthen the hands of the defenders of our beloved country.
Newly inaugurated IDF CoS Herzi Halevi is the first observant IDF Chief of Staff. His grandmother was the niece of Rabbi Avraham HaCohen Kook, Israel's first Chief Rabbi and the iconic leader of Religious Zionism.
Hebrew speech translated by Rochel Sylvetsky., An abridged English translation can be found on the IDF site.