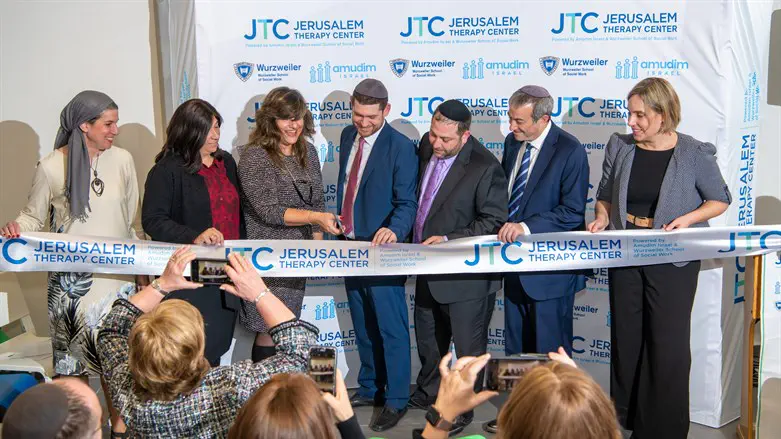 Jerusalem Therapy Center inaugurated
Amudim/Michael Katz
The multi-disciplinary therapy center held its opening ceremony in Jerusalem at 3 Strauss Street. A joint project of Amudim Israel and Yeshiva University's Wurzweiler School of Social Work, the brand new center, named Jerusalem Therapy Center (JTC) will benefit patients suffering from a variety of mental health issues such as depression, trauma, and certain addictions.
The ribbon-cutting ceremony and opening of the brand new center was attended by Yeshiva University President, Rabbi Dr. Ari Berman; Jerusalem Mayor, Moshe Leon; Jerusalem Deputy Mayor, Fleur Hassan-Nahoum; Amudim founder and CEO, Rabbi Zvi Gluck; Amudim Israel director, Yosi Golberstein; MK Michal Woldiger; Executive Director of Yeshiva University in Israel, Stephanie Strauss; Director of Wurzweiler MSW program in Israel, Nechama Munk; and the clinic's director, Dr. Khaya Eisenberg.
"The new center is a dream come true for both parties that backed this venture," says Amudim founder and CEO, Zvi Gluck. Quoting former Chief Rabbi of England, Rabbi Lord Jonathan Sacks, he emphasized that those who visit the center are not weak, but empowered, and that "asking for help is an act of strength. The Jerusalem Therapy Center will help many in urgent need of therapy who did not previously have access to it."
The brand new JTC will be staffed by advanced Wurzweiler students, in the process of earning their Master's (MSW), post-graduate level therapists from the Wurzweiler alumni network, as well as senior and seasoned clinicians. The clinic will provide cost-effective therapy services and much-needed support to thousands of mental health patients and victims of trauma and abuse each month.
Statistics reveal that anxiety issues in the community have risen by a sharp 25% since the outbreak of Covid in Israel, at the start of 2020, and that one in every three persons will require emotional help at some point in life. The Jerusalem Therapy Center aims to address the pressing mental health needs of English-speaking in Israel–from gap-year students away from home for the first time, to new immigrants struggling to adjust to life in Israel, to IDF soldiers suffering PTSD, and Israelis suffering psychologically from pandemic-related fatigue and depression. JTC will also offer high level post-graduate training programs for existing professionals to further develop their expertise and careers, as well as relevant workshops for laypeople and communities.
Founded in 2015, Amudim quickly became the go-to address for anyone in mental health related crisis, its organizational structure providing the necessary resources to respond thoroughly and efficiently to calls for help. Amudim ensures that anyone in crisis can get the guidance they needs in a professional, knowledgeable, and caring manner.
When it became obvious that many young people first summoned the courage to reach out for help during their gap year, Amudim took the initiative to launch a branch in Israel, which opened in late 2017. Amudim Israel swiftly became a vital resource within the community and has since dealt with hundreds of cases of addiction, abuse and other crises, including multiple cases of victims coming forth with unresolved trauma after they were far removed from their abusers. Amudim Israel has also expanded to provide young couples and others abroad with enduring support and meaningful assistance.
At the ribbon-cutting ceremony, Yeshiva University President Rabbi Dr. Ari Berman expressed that "This wonderful partnership between Amudim and Yeshiva University, which brought about the establishment of the new therapy center in Jerusalem, is another important step in Yeshiva University's efforts to reinforce the connection between Jews in the Diaspora and Israel."
Jerusalem Mayor Moshe Leon congratulated both Amudim and Yeshiva University on the opening of the center and wished them blessing and success in the future.
Nechama Munk, director of YU's Wurzweiler School of Social Work Israel Program, emphasizes the ever-rising need for mental health services in the greater Jerusalem area. "One of our [community's] basic values is to help those in need, and JTC will be here to offer relief and hope. Getting good, affordable treatment is challenging for all Israelis, and even more so when your mother tongue isn't Hebrew."
"Amudim Israel's partnership with Yeshiva University is only the beginning of a long road, and we'll be working together to provide much needed services to those in need," concludes Gluck.