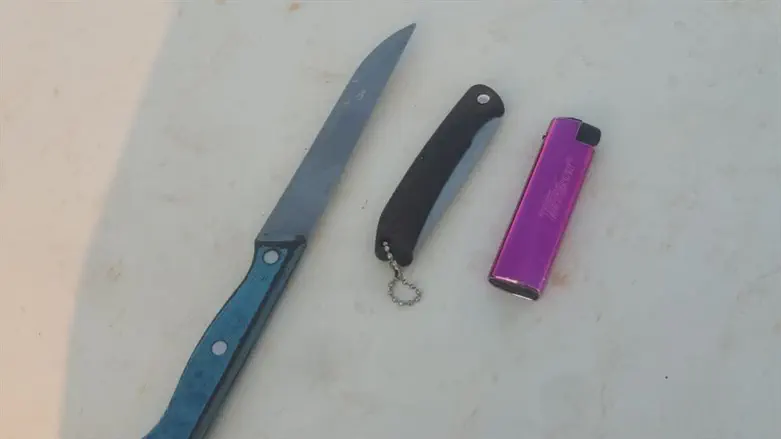 The knives found in the possession of the terrorist
Spokesperson
A terrorist armed with a knife was caught on Tuesday near the community of Alon Moreh in Samaria. The security guard stationed at the entrance to the community identified the terrorist using cameras that were installed there only a year and a half ago by the Home Front Command, at the request and direction of the Shomron Regional Council.
The security coordinator captured the terrorist near the entrance to the community and handed him over to the security forces.
After the incident, the head of the Shomron Regional Council, Yossi Dagan, spoke with the security guard who was stationed at the entrance to the town and with the security coordinator. "You showed bravery, and today you saved lives in Israel. The entire settlement in Samaria is proud of you and the people of Israel are proud of you. We will continue to build Samaria with all our might, we will not be afraid or hesitate. We will continue to build and get stronger."
He added, "We have a very significant shortage of security components in all the communities in Samaria. A shortage that amounts to tens of millions of shekels. Here we had a miracle and the terrorist tried to enter a community that had received security components only a year and a half ago. What would have happened if the security components had not been installed? We would have had today an incident in the style of the murder of Rina [Shnerb], who was murdered only two years ago. The defense establishment must order the completion of the security components - right now."
The Elon Moreh security team clarified, "In the last hour, a report was published in the media about a terrorist who tried to enter Elon Moreh. The report is not accurate! At a great distance from the community, a figure approaching in the direction of Ein Kfir (not on the way to the community) was identified by lookouts, forces were deployed and within a short time a terrorist was caught with a knife in his possession. He was handed over for questioning. We thank the army and the military security coordinator for their vigilance and immediate action. It is important to note that if this were an incident related to the community, the residents would receive regular security updates in real time."
The national organization of military security coordinators said, "The heroism of the military security coordinator of Elon Moreh prevented a bloodbath and saved the lives of many residents of the community. It has once again been proven that the military security coordinators are the backbone of the citizens of Israel and are the spearhead of the security of the State of Israel."