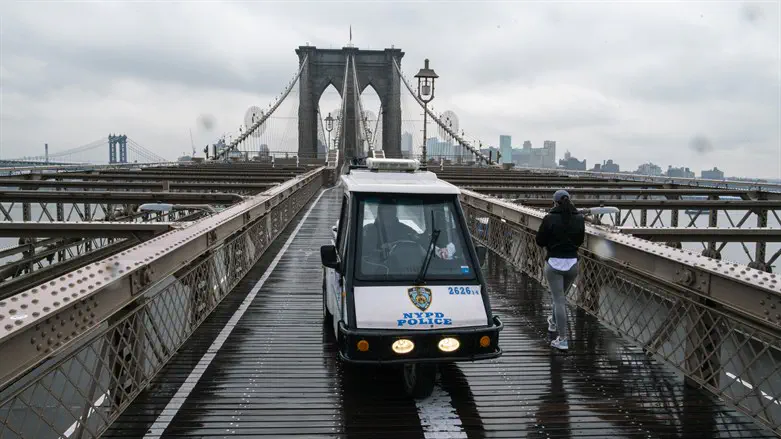 NYPD patrol empty Brooklyn Bridge
Reuters
A gang of teenagers attacked two Jewish boys in Crown Heights on Sunday after accosting a Jewish couple and a woman walking by herself in the same area, according to Crown Heights Shomrim and the NYPD.
The Orthodox boys, 10 and 12, were attacked by a gang of four teenagers while walking in the Albany Avenue and Eastern Parkway area of the neighborhood at approximately 6 p.m. They were making their way to a Torah study program when the attack occurred, Collive reported.
The gang jumped the two smaller boys, and began to harass them without any warning. The victims were punched multiple times in the face. But they were not seriously hurt, according to the Shomrim.
After the assault, they continued to their Torah class. That evening, they told their father what happened and he contacted the Shomrim, which opened an investigation and contacted the NYPD.
"These four teens attacked two young Jewish boys on a Crown Heights street Sunday evening in an unprovoked assault. Thankfully, the boys were not badly hurt," Crown Heights Shomrim tweeted.
The same teen gang reportedly harassed other Jewish Crown Heights residents, including a couple and a woman walking by herself.
Also on Sunday evening, a masked teen gang attacked a Jewish man in Crown Heights, throwing an object at him.
Four teenagers accosted the Jewish victim and threw what the report described as an "object" at him. No further details were given about the object.
Earlier last week, two Jewish girls walking to the Bais Rivkah School in Crown Heights were verbally assaulted by a man who hurled antisemitic abuse at them and spit in their faces.
The incidents followed many unprovoked antisemitic assaults that have taken place in Brooklyn in recent months.