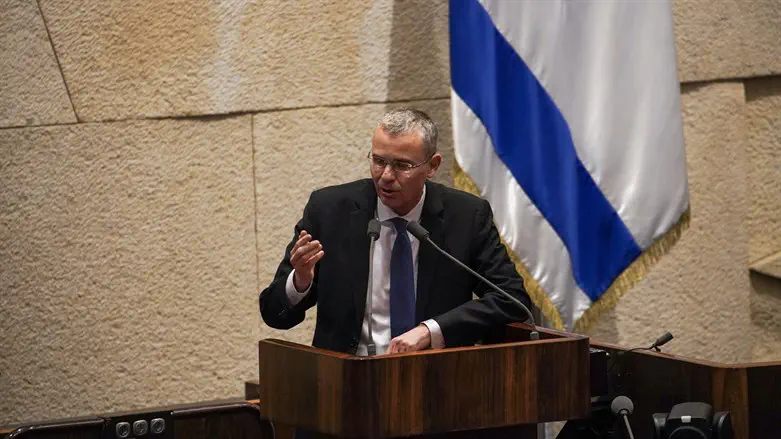 Minister Yariv Levin in Knesset
Dani Shem Tov - Knesset Spokesperson
Justice Minister Yariv Levin said in the Knesset plenum Monday evening that the indictments against Prime Minister Benjamin Netanyahu "contributed to the public understanding" of the need for reform that he introduced to the judicial system.
In response to interjections by MKs from the opposition who wondered why Netanyahu was convinced at this time that a reform of the judicial system was needed, Levin said: "Three indictments of this type really contributed to a very broad public understanding that there are failures in the system that need to be corrected, but it has nothing to do with them."
"For many years I was alone in speaking out on this matter. I spoke about this issue for the first time on the stage of the Knesset in my first speech, not my second or third. It was almost 14 years ago. When I finished the speech, one of the journalists approached me and said to me, 'I will write about what you said, because such things were unheard of here. But I want to give you a piece of advice: find another topic, because it is of no interest to anyone. I fought for this path that I believe in for a long time, and it took a long time to convince others," he added.
Opposition leader Yair Lapid responded on Twitter to the Justice Minister's words: "Yariv, for 15 years you have been talking about this and for 15 years your party has been saying - come on, this will make Israel undemocratic." He added that "Now they stand behind you because it benefits them . The result will be the destruction of the legal world - indictments and convictions will be canceled. A criminal will not be a criminal, a law will not be a law. And the State of Israel will cease to be a democratic state."