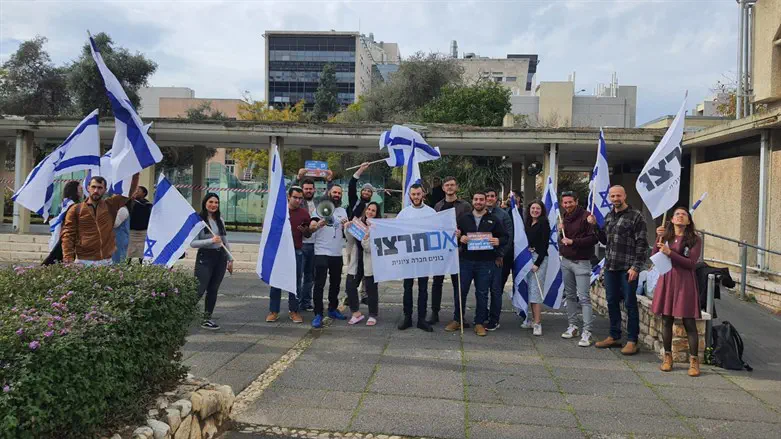 Im Tirtzu demonstration
Im Titzu
Students from the Im Tirtzu movement are holding today (Monday) a conference in support of Justice Minister Yariv Levin's proposed judicial reforms.
Israel National News spoke to Tel Aviv University branch coordinator of Im Tirtzu, Orit Eliyahu. about the climate engendered in law faculties on university campuses across Israel by Minister Levin's reforms.
"From the moment the reform was announced, there started to be tension in the academy, and it is presented mainly in law faculties. There is tension in the corridors. The lecturers have already held a conference for "Saving Democracy" with emergency lectures, and that is their right, but there are many students who feel that their voices are being silenced because if they are in favor of the reform, they are made to feel that should not express themselves," said Orit.
Addressing today's conference, she said: "We are going to a demonstration of support for the reform. People write to me, 'Protest for me too.' It will happen in practice, but that's the atmosphere."
In such a reality of silence, Orit believes that the number of demonstrators that will arrive is not critical since the value of the protest is mainly symbolic in the fact that the voice of the government's supporters is heard. "When I know that I am giving voice to other people, it gives me more motivation." To this she adds and promises a fight for freedom of expression and the right to equality in the face of attempts at silencing certain opinions.