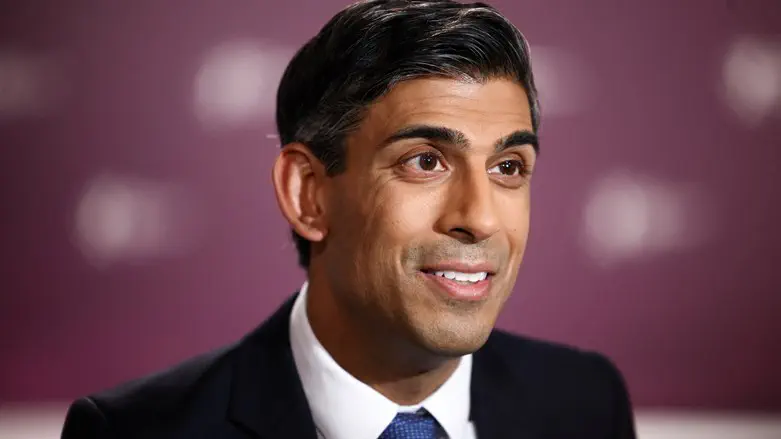 British PM Rishi Sunak
Reuters
A university professor being talked about as UK Prime Minister Rishi Sunak's first director for free speech on university campuses has reportedly been a vocal critic of the IHRA definition of antisemitism and has stated in the past that the free speech rights of pro-Palestinian activists are under attack.
British media outlets have reported that Sunak is considering Cambridge philosophy professor Arif Ahmed for the new position that will entail making sure that speakers talking on university campuses are not banned or cancelled for their views.
Ahmed has said on numerous occasions that freedom of speech is under attack on campuses from both the left and the right and has pushed for universities to be places where "you can pretty much say anything you like," the UK Jewish News reported.
But the academic has also been vocally opposed to the IHRA definition of antisemitism, writing in a blog post in February 2021: "I am strongly against Gavin Williamson's requirement that universities adopt the IHRA definition of antisemitism… This 'definition' is nothing of the kind; adopting it obstructs perfectly legitimate defence of Palestinian rights."
"As such it chills free speech on a matter of the first importance. I hope the Secretary of State reconsiders the need for it; but these new free speech duties ought to rule it out in any case," he added.
Earlier in January, Ahmed told a Cambridge Union debate that free speech was essential because it was "very difficult not to offend somebody" when "discussing the issue of Israel/Palestine."
He said that "just stating facts can offend somebody," describing that a New York teacher placed a New York Times headline that claimed "Israel kills dozens of Palestinians" on his door alongside the statement "I support Palestinian rights." He went on to criticize the school for ordering the teacher to take it down.
"That's an example of an issue that because it's so important it's inevitably going to cause offence," he added, according to the outlet.
The academic freedom director is part of the Higher Education (Freedom of Speech) Bill that is expected to pass British parliament.
The Department of Education told the Jewish News that a candidate for the position has not yet been finalized and the search is still active.