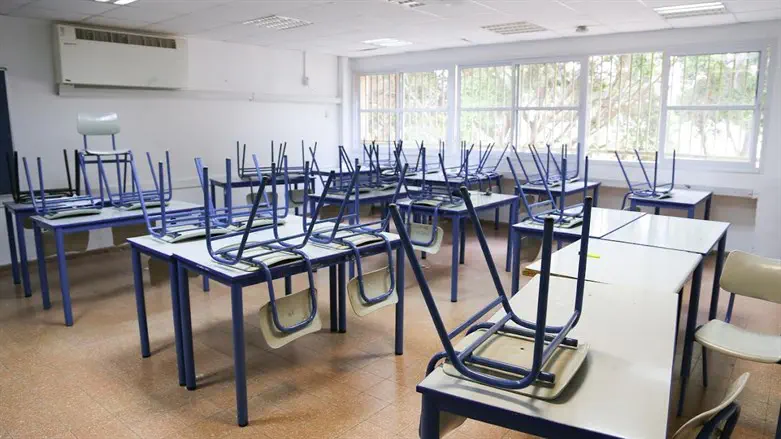 Empty classroom
Shutterstock
The chairman of the Teachers Association, Ran Erez, sent a letter on Sunday to all principals and teachers in post-elementary educational institutions in which he threatened sanctions.
Erez claims that the Finance Ministry is not keeping to its obligation to the teachers. "The National Labor Court ordered the state to hold intensive and ongoing negotiations with us, evenhandedly and willingly, with the goal of signing a joint agreement with us to improve the wages and conditions of the teachers in the post-elementary education system.
Until the writing of these lines, the Finance Ministry has not held negotiations. In the conversation with them on January 10th, it was affirmed that they do not intend on holding negotiations as the National Labor Court ordered," he added.
He says, "In light of what was stated above, we will have to renew the struggle, and we are considering halting the silence we vowed to keep. Therefore, we again advise you, the school principals, not to renew contracts with different vendors, such as tour operators, since this time, we will not consider the contracts that you sign with them. In any case, if you do sign a contract, it is essential to insert a clause that allows you to cancel or postpone the activity due to sanctions, a strike, or a higher power, and that way, you will not cause financial damage to your school."
Erez also pointed out, "If you, the principals, continue to sign contracts as in the past, you are likely to lose money. Canceling trips, shows, etc., is part of the sanctions that we will enact. From how the dead negotiations are going and from our experience, there is no doubt that the fight will be renewed shortly and will last a long time. The Teachers Association's demands in these negotiations pertain to all sectors, teachers, principals, counselors, and the rest of the special groups of educational workers who have been deprived until now, such as chemistry and physics teachers, those who teach in conservatories, and so on.