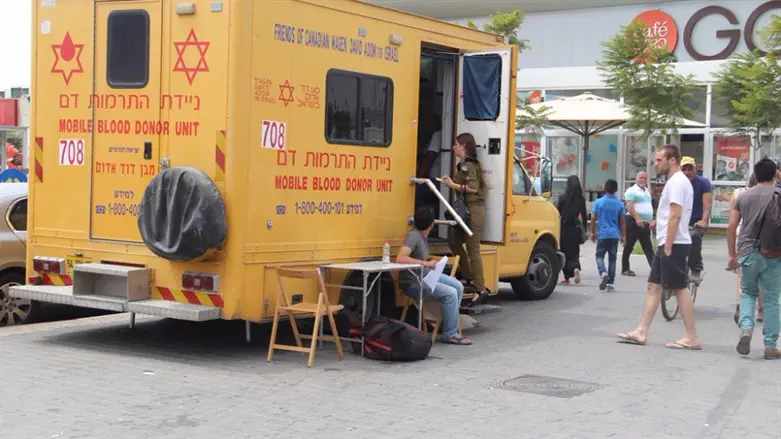 Magen David Adom blood donation center (file)
Magen David Adom
Israel's Ministry of Health has ended a 24-year blood donation ban on most immigrants from Britain.
In December 1999, a Ministry of Health directive was issued that prevented all those who had lived in Britain for over 6 consecutive months between 1980 and 1996 from donating blood.
A similar directive was issued later regarding those who had lived in France, Ireland and Portugal.
The aim of this directive was to reduce transfer of a novel variant of "Mad Cow Disease" (Bovine spongiform encephalopathy (BSE) / new variant Creutzfeldt Jacob disease - nvCJD that was discovered in those who had received blood in those countries, following transfer from animals that were infected with the disease.
These instructions led to many people who had moved from the above countries to Israel, or tourists, being prevented from donating blood.
At the end of 2022, the FDA issued new recommendations to reduce the possibility of transfer of CJD of vCJD through blood or its components.
These recommendations are based on new information that was prepared and published in Britain, and according to risk assessment models, the calculated risk of transfer of vCJD through plasma from blood donations, is one or two cases in every 50 years. This risk does not justify turning away blood donors in the same way as in the past. In addition, the risk to patients receiving immunoglobulin (IVIG) treatment is also negligible.
Filtering the blood components in order to distance the white blood cells from the blood components increases the safety.
Following the recommendation of the professional committee that advises the Ministry of Health on the subject of blood donations, the Ministry has adopted the FDA directives on this matter, in order to remove the restrictions of receiving blood donations from those from Britain / changes in criteria to accept blood donors with risk of vCJD.
The new recommendations are:
No longer turning away donors for the following reasons (indefinitely):
Geographical risk of exposure to Bovine spongiform encephalopathy (BSE), following residence in Britain between 1980 – 1996, and France and Ireland between 1980 – 2001.
Receiving blood in Britain, France and Ireland since 1980.
To return to the donor pool those who in the past had been rejected due to the above geographical restrictions, on condition that they fulfil all other criteria for blood donors in Israel. The question that prevented the above donors from donating is to be removed from the blood donors' questionnaire. A question regarding residence of over 6 months in Britain between 1980 – 1996, or receipt of blood transfusions / operations in Britain since 1980 will be added to the questionnaire, so that these units of blood will be sent for filtration to distance white blood cells – prior to being given to patients.
The new regulations went into effect on Sunday.
Prof. Eilat Shinar, MDA Deputy Director General of Blood Services greeted the change in policy: "For many years we've had to turn away those who made Aliya from these countries or had resided there for over 6 months. We're pleased to tell all our loyal blood donors, who continued to approach us and asked us to change the regulations that this day has finally arrived! We will be pleased to meet these donors once again at MDA blood donation locations across Israel, in order to continue to fulfil the demands of the health service and the IDF, to provide blood units and components safely and at a high standard, to all those who require this treatment in order to save their lives."