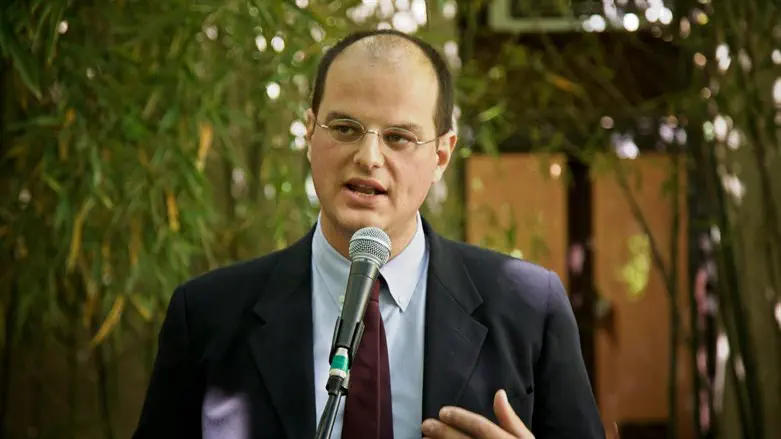 Giulio Meotti
צילום: עצמי
"From a demographic point of view, Europe seems to be on a path that could lead it to leave history", said Benedict XVI in 2007, while his secretary Georg Gänswein evoked the "danger of the Islamization of Europe".
Three years earlier, while cardinal, Ratzinger had explained that "Europe seems to have become empty from within, paralyzed by a crisis in its circulatory system which puts its life at risk, entrusted, so to speak, to transplants, which however then cannot but erase his identity".
In the past few days the news that Mohammed is the second most popular name among newborns in all of Holland (it has been first in the four main cities for years), the first name in England, the first in Berlin, the first in Oslo, the first in Malmö, first in Brussels, third in Vienna… The Welt informs us about Germany: "Even in Dortmund the first is the name of the Prophet, as in Duisburg and Essen…".
It is enough to walk into a maternity ward, a primary school or a playground in a large European city to see that Europe's farewell has already taken place. "The historic peoples in a number of cities, districts and departments feel themselves in the minority, where the demographic change in Europe is extremely spectacular," wrote the French philosopher Alain Finkielkraut.
"But how can we tell people that the plague has descended when there is no visible evidence?", wrote Pierre Chaunu, professor at the Sorbonne and head of the school of Lucien Febvre and Marc Bloch, in that magnificent book published in 1974 by Gallimard titled "The White Plague". How to avoid the suicide of the West. "Where are the dead bodies on the street corners? The media? Be serious. The large public wants songs, dances and colors. Nothing more. Who will dare to interrupt broadcasts and announce with the obligatory smile that the white plague has descended on all rich countries, that the evil seems to have no remedy for the moment".
"The great replacement, I was shocked that you call it a theory, it's not a theory, it's a fact," Michel Houellebecq said in an interview last month that earned him a lawsuit from French Muslims. In Malmö, the great substitution is a fait accompli.
The majority of first-time students in Sweden's third largest city have a migrant background. The news prompts calls for new educational facilities where migrants can study in their mother tongue, Arabic, because Swedish is now a "minority language". A third of Malmö's residents were born abroad, with Iraq being the most common country of birth, with Syria and other Middle Eastern countries following at the top of the list. Data show that two-thirds of people aged 5-19 have an immigrant background and this data does not include third-generation immigrants and national minorities.
The Frankfurter Allgemeine Zeitung, the major German newspaper, reports that "in Malmö half of the residents are under 35 and the most common first name in Malmö is Mohammed". Malmö is also the city most affected by gang violence and 30 of the 100 bombings that swept Sweden in one year took place in Malmö. An average of three a month. "The bombs that wake us up at night, exploding so that glass windows fly into the bedrooms, have taken thousands of Malmö residents hostage," reports the large Expressen newspaper. "Friends tell me how they renovated their house in so that children are not injured when there are explosions nearby".
In recent days, Krone - the most widely circulated Austrian newspaper - reported that in Viennese schools classes are starting to be organized according to religious affiliation. Muslims with Muslims, Catholics with Catholics. The proportion of the population with an immigrant background has increased significantly in Austria over the last decade. A quarter of the Austrian population is an immigrant. This figure has increased by 35 percent in ten years. More than a quarter of the students do not speak German. And in Vienna, Muslims already outnumber Catholics in middle and high school. In the city, Catholics have halved since 1971.
A Vienna teacher speaking at Welt reports serious problems with Muslim students. "In a class of 25 children, I would have to integrate 21. No one can do that. Where should we integrate them? Music and dance are rejected for religious reasons". Welt provides staggering numbers: "While on average a quarter of all pupils in Austria has a migration background, in Vienna it is one in two. In Viennese secondary schools it is as high as 70 percent".
Schools mirror demographics. "Islam has long since become the number one faith in secondary schools," Krone explains. The incredible growth of the Islamic community in Austria is documented by statistics: in 1971 there were 22,300 Muslims, in 1981 76,900, in 1991 158,800, in 2001 339,000 and in 2021 745,600. At the end of the century, Muslims will be half of the Austrian population (without considering any other migratory variants).
In an interview with Der Standard, the Cardinal Archbishop of Vienna Christoph Schönborn said: "Take a look at Viennese schools and you will observe how the demographic developments of Christian children and Muslim children are divergent. This is a serious topic. There is no shortage of Islamic voices who affirm that Europe is a ripe fruit for Islam". Even the newspaper Krone Zeitung has published impressive figures in the case of constant immigration: "In 2046, one in three Viennese will be Muslim". The study is conducted by the Institute for Demography at the Austrian Academy of Sciences in Vienna.
In Hamburg's schools, 51.4 per cent of students have a migration background. In schools in North Rhine-Westphalia we are at 60 per cent. In many Oslo's school districts, 50 percent of the student population are immigrants from Muslim countries. We had already known for ten years that in Antwerp, Belgium's second city, more than half of the students of the primary schools are Muslim. In Strasbourg we are still a little behind: 25 percent of the students are Muslims. Already ten years ago, in Brussels, 41 percent of primary school students were Muslims. In Birmingham, England's second largest city, Muslim children have outnumbered Christian ones.
Antwerp, Hamburg, Malmö, Strasbourg, Birmingham, Brussels, Vienna and the other metropolises of the Old Continent show that the change of civilization is happening and not even slowly.
Giulio Meotti is an Italian journalist with Il Foglio and writes a twice-weekly column for Arutz Sheva. He is the author, in English, of the book "A New Shoah", that researched the personal stories of Israel's terror victims, published by Encounter and of "J'Accuse: the Vatican Against Israel" published by Mantua Books, in addition to books in Italian. His writing has appeared in publications, such as the Wall Street Journal, Gatestone, Frontpage and Commentary.