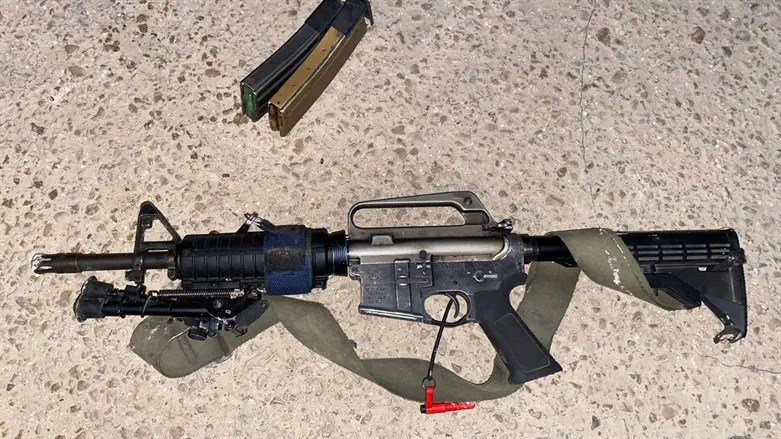 An M16 rifle found in the terrorist's vehicle
IDF Spokesperson
The Palestinian Islamic Jihad terror organization is mourning the elimination of two of its operatives during an IDF operation in the village of Jaba in northern Samaria. The two terrorists are Amjad A'dnan Khalilia, the head of the organization's ordinance unit, and Wa'iz A-Din Basim Hamarah.
The two terrorists opened fire from a moving vehicle at IDF soldiers operating near Jenin overnight Friday. The soldiers returned fire and eliminated the two terrorists. The IDF stated that non of the soldiers were injured.
According to a statement released by the Jihad, the two were shot in their vehicle in the early morning hours on Saturday while on a "Jihadist mission to harm the occupation forces on the main route between the village of Fundokomdia and Jaba."
The statement also states, "One of the Mujahadin was hit during the operation, and they retreated, but the occupation forces chased them and murdered them in cold blood."
In a video, an IDF jeep can be seen approaching the Jihad operatives' car, and immediately after, an IDF-armed vehicle approaches. The Jihadists attempted to escape but, as mentioned, were shot dead in their vehicle, which hit a wall.
The Al-Quds brigade's Jaba unit also stated, "Every week, we stick with the fight and the will of the martyrs, as well as in the future Intifada of conflict against the occupation forces until the occupation leaves the lands of Palestine."
The IDF stated: "During an operation tonight near Jaba in the Menashe Brigade area, a few suspects shot from a moving vehicle at an IDF force which returned fire at the vehicle. Hits were identified. After searching the vehicle from which the suspects fired, the forces found and confiscated an M-16 rifle. None of our forces were harmed."