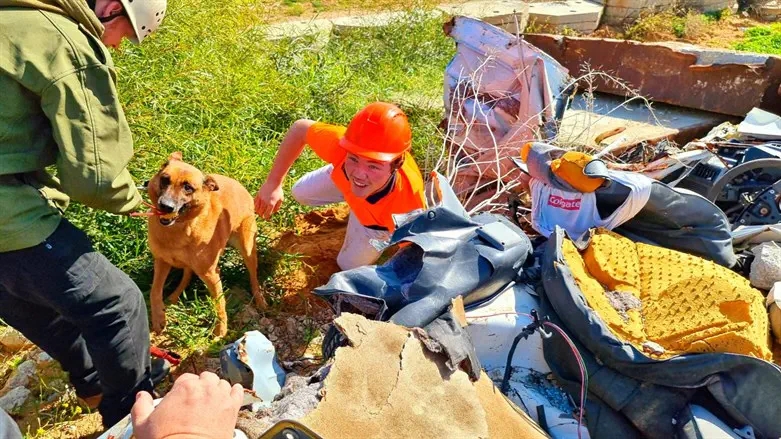 Nesiah students training with an IDU rescue dog
Israel Dog Unit Public Relations
Australian high school students from the New South Wales Board of Jewish Education's Nesiah program to bring students in non-Jewish public schools in Australia into greiater contact with Israel's culture and heritage met today with the Israel Dog Unit (IDU), a nonprofit specializing in search and rescue, to learn Israeli rescue services' methods feor responding to a building collapse.
The students received professional instruction in rescuing victims trapped by building collapse at a training site maintained by Magen Disaster and Emergency Management Inc., a firm specializing in disaster recovery, to simulate such an incident.
Magen instructors demonstrated tools and techniques for safely approaching the scene of a building collapse, clearing rubble, and extracting victims from ruins. IDU volunteers taught the course participants how to integrate working dogs into efforts to save victims trapped under rubble.
Some of the Australian youth who participated showed interest in the possibility of immigrating to Israel, and enlisting as soldiers in the Israel Defense Forces or volunteers in the IDU.
IDU director Yekutiel Ben-Yaakov commented: "We were happy to impart knowledge that could be used to save human lives, and we were pleasantly surprised when some of the youth expressed a desire to immigrate to Israel and take part in further activities to save lives in Israel."
A Magen spokesman commented: "We are pleased to host the IDU at our facility and are always happy to work together with other professionals in the field of rescue operations."