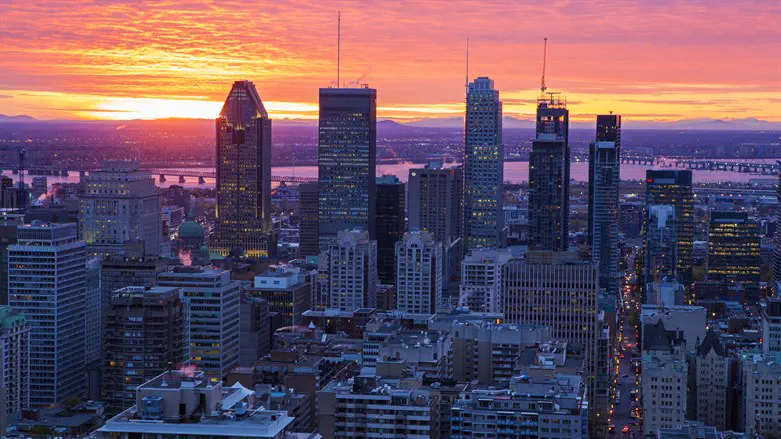 Montreal
iStock
B'nai Brith Canada is calling for the ouster of the Iranian representative in Montreal, accusing him of having links to a designated terrorist entity.
Nearly a month ago, B'nai Brith informed ministers in the Canadian government that they should dismiss Iran's representative at the United Nations aviation agency in Montreal for endangering the country's national security.
In a December 13 letter addressed to Minister of Foreign Affairs Melanie Joly, and copied to Minister of Public Safety Marco Mendicino and Minister of Transport, Omar Alghabra. B'nai Brith Canada CEO Michael Mostyn asked that Farhad Parvaresh be declared "persona non grata" because of his "callous disregard for global security and his endangerment of Canada's national security through his association with a fundamentalist designated terror group [the Quds Force of the Islamic Revolutionary Guard Corps]."
Mostyn pointed out that Parvaresh lives and works in Montreal as the Islamic Republic of Iran's permanent representative at the International Civil Aviation Organization (ICA0).
"His previous affiliations compromise the safety of innocent Canadian, Iranian, and other civilians around the world," Mostyn said. "Prior to his appointment at the ICAO, Parvaresh was the chairman and president of Iran Air from 2009 to 2017. While he was serving in this role, on May 23, 2013, Parvaresh was designated [by the US government] for having engaged in proliferation-related activities."
Mostyn said it is suspected that Parvaresh, through his position as head of Iran Air, "was actively recruited to enable the nefarious actions of members of the Quds Force by furnishing them with the requisite air transportation infrastructure they required to complete their missions abroad."
The Canadian government designated the Quds Force as a terrorist organization in December 2012.
"Parvaresh, due to his position at the ICAO, is currently free to reside in Montreal and to unimpededly travel throughout Canada as he desires," Mostyn said. "A known collaborator with an increasingly hostile regime and designated terrorist group freely traversing Canada's borders, while enjoying diplomatic protection, significantly delegitimizes the credibility of Canada's security apparatus and endangers Canadian citizens."
Mostyn called for Parvaresh to be deported for representing a "threat to our nation's national security."
"Allowing Parvaresh to remain in Canada not only presents a threat to our nation's national security, as the Iranian regime has demonstrated a will to continue to intensify the measures it uses both domestically and abroad to retain control over the country, but amounts to complacent acceptance of the deterioration of human rights internationally," he said.
B'nai Brith noted that earlier this month, Liberal MP Ali Ehsassi called on the Canadian government to impose "severe" travel restrictions on Parvaresh, telling CBC News the government has retained lawyers to weigh its options regarding claims that Parvaresh has ties to a terrorist group. According to the CBC report, Parvaresh denied the allegations.