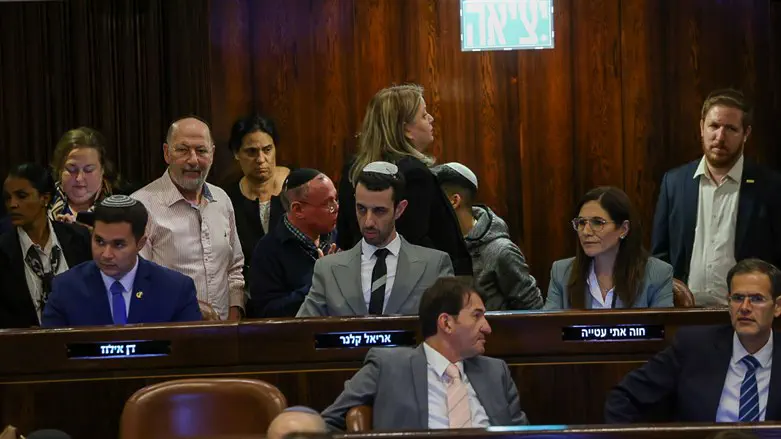 Etty Hava Atia, Ariel Kallner and Dan Illouz
Noam Moskowitz, Knesset spokesperson
Four new members of the Knesset, who entered the Knesset under the so-called "Norwegian Law" following the resignation of ministers from their party, were sworn in on Monday.
Minister of Culture and Sports Miki Zohar of the Likud resigned from the Knesset and MK Dan Illouz, formerly a member of the Jerusalem City Council and a legislative advisor to the Likud faction in the Knesset, was sworn in in his place.
Environmental Protection Minister Idit Silman of the Likud submitted her resignation from the Knesset last Thursday and was replaced on Monday by former Knesset member Etty Hava Atia.
Former Knesset member Ariel Kallner was also sworn in on Monday, entering the Knesset following the resignation of Tourism Minister Haim Katz.
Later on Monday evening, Minister of Diaspora Affairs and Social Equality Amichai Chikli announced that he, too, will resign from the Knesset under the Norwegian Law, and will be replaced by Amit Halevi, who served as an MK in the 23rd Knesset and who was elected to the 36th spot on the Likud slate ahead of the recent election.
The United Torah Judaism Party also took advantage of the Norwegian Law to allow MK Yitzhak Pindrus to enter who Knesset, replacing Construction and Housing Minister Yitzhak Goldknopf.
The Religious Zionist party will soon implement the Norwegian Law in favor of the entry into the Knesset of right-wing activist Zvi Sukkot.
Party chairman Bezalel Smotrich and Sukkot met in the Knesset on Monday. At the meeting, Smotrich informed Sukkot that he intends to keep his promise, and that he or another one of the party's ministers will resign in accordance with Norwegian Law, in order to bring Sukkot into the 25th Knesset.
Sukkot was relegated to the 16th spot on the Religious Zionist Party slate, after Smotrich exercised his right to reserve spots on the slate for candidates of his choice. After moving Sukkot to an unrealistic spot on the slate, Smotrich promised Sukkot that the party would implement the Norwegian Law and allow his entry into the Knesset.
Minister of National Missions Orit Strock prefers to remain a member of the Knesset and it is possible that Smotrich himself will resign, due to the fact that he serves as Minister of Finance and will be "happy" to be freed from the parliamentary "burden" imposed on him as a member of the Knesset, such as the obligation to appear for votes that are important to the coalition.
"I'm updating you that I just had an excellent meeting with Finance Minister Bezalel Smotrich," said Sukkot as he left the Knesset. "Bezalel informed that he plans to implement the Norwegian Law and I will enter the Knesset soon. Thank you to all the supporters. We will work together with all the partners of our party and do a lot of good for the people of Israel and the State of Israel."