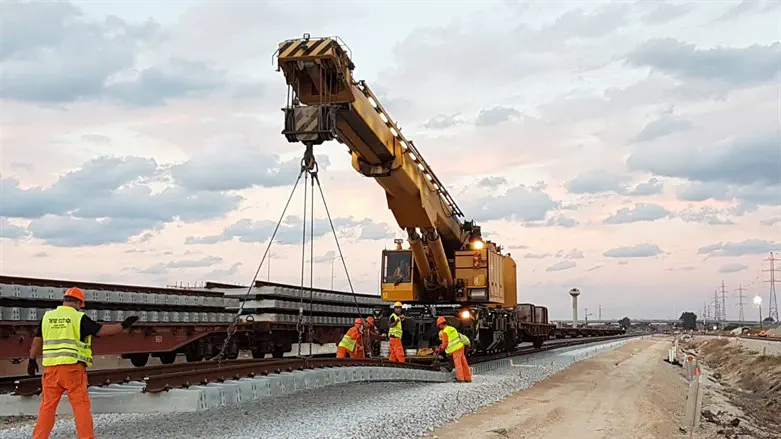 Infrastructure work on Israel Railways
Israel Railways
Minister of Transportation Miri Regev met on Sunday evening with the Chairman and CEO of Israel Railways and with senior officials of the Ministry of Transportation and Israel Railways, following the demand of United Torah Judaism chairman Minister Yitzhak Goldknopf to stop the railway's infrastructure work on Shabbat.
Deputy Minister of Transportation MK Uri Maklev - himself a member of UTJ - also participated in the discussion.
During the meeting, Minister Regev was presented with the works currently being carried out on Israel Railways and the operational and safety needs that the railway requires, including life-saving maintenance works to preserve human life.
Minister Regev stressed during the discussion that, as part of the works being carried out on the trains, the status quo will be maintained on Shabbat as has been the practice until now in Prime Minister Benjamin Netanyahu's governments, while performing infrastructure works related to pikuach nefesh (work which is necessary because of a danger to human life).
At the conclusion of the meeting, it was agreed that Israel Railways would present additional solutions to Regev on how to reduce work on Shabbat and would so by the end of the week.
Earlier on Sunday, Netanyahu urged Regev to comply with the demands by Goldknopf that infrastructure work not be carried out during Shabbat.
The conversation came after Goldknopf penned a letter to Regev, calling on her to ensure that infrastructure work slated to take place on Shabbat be rescheduled.
A report published by Walla! on Sunday evening said that Netanyahu spoke with Regev about Goldknopf's request, instructing the Transportation Minister "to handle" the rescheduling.