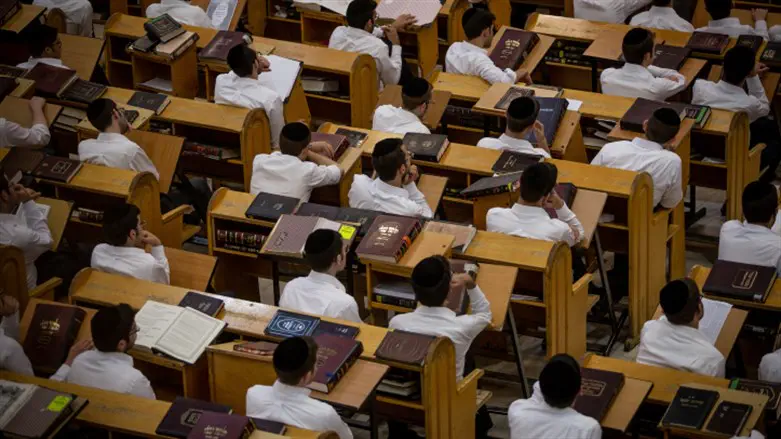 Yeshiva students (stock)
Aharon Krohn/Flash90
A new Jewish advocacy organization has been launched by Agudath Israel of America to correct the record about yeshivas and the Hasidic and Orthodox Jewish communities, focusing on the "smear campaign" perpetrated by publications such as the New York Times.
"With antisemitic violence on the rise, our public discourse must promote facts, not gross mischaracterizations," said KnowUs.org, which bills itself as promoting "Faith. Freedom. Facts."
It noted that there were more hate crimes in New York City against Jews than against every other vulnerable group combined, and that out of 194 antisemitic assaults, 184 were against Orthodox Jews – a dangerous pattern that was recently called out in a report by Jewish activist Dov Hikind, who said that "antisemitism is literally out of control" in New York.
"Unfortunately, the New York Times, and others, have conducted a smear campaign against Orthodox Jewish and Hasidic private schools – and their communities' entire way of life – in a way that can increase the already alarming number of attacks," KnowUs said.
They charged that the articles are full of inaccurate statements. "Only the stories of yeshiva critics and those who have left the Orthodox Jewish community are told."
"Notwithstanding repeated efforts, the Times has refused to feature alternate viewpoints," they said. "These representations are hurtful to the hundreds of thousands of parents who save taxpayers billions annually and sacrifice dearly to self-fund their children's education."
"We are proud of our yeshivas, which produce law abiding, successful citizens in every walk of life," the group added. "There is a reason Jewish parents dig deep into their pockets to send their children to yeshivas."
KnowUs explained that it represents thousands of yeshiva graduates and parents who "firmly believe that parents – not government or media – should determine how their children are raised."
They accused those promoting the false claims about yeshivas of not only attempting to smear the Orthodox community but also encouraging antisemitism.
"The misrepresentations peddled threaten our way of life. And, in the current climate, they threaten our bodily safety," KnowUs said.
"Antisemitism, especially against Orthodox and Hasidic Jews, is on the rise – from celebrities and athletes to brazen attacks on the streets. Netflix relishes anti-Orthodox Jewish content. A major newspaper launching a campaign against a minority group is always wrong. In this climate, it is deeply concerning."
"Open your eyes to what is happening every day in New York to understand why spreading these falsehoods is so dangerous," they added.