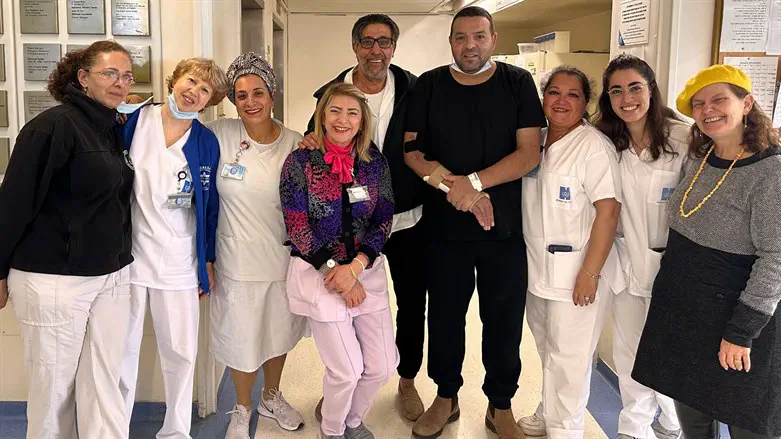 Ofer Ohana leaves hospital
Hadassah spokesperson
Ofer Ohana, the Magen David Adom medic who was seriously wounded in a terrorist shooting attack in Kiryat Arba in October, has been released from the hospital.
During the attack, Ohana was providing medical assistance to the wounded when the terrorist opened fire again in his direction, seriously wounding him. Another man was killed in the attack.
Ohana, 51, began the rehabilitation process at Hadassah Mount Scopus Medical Center six weeks ago, and is now ready to leave the hospital.
The director of the rehabilitation department at Hadassah Mount Scopus, Prof. Isabella Schwartz, says that Ohana fought with all his strength to regain the abilities he lost following his seriousinjury. "Ofer was seriously injured and suffered many injuries. He was referred to the rehabilitation department at Hadassah Mount Scopus to begin the really difficult work. The department's staff, doctors, nurses physical therapists, social workers and occupational therapists, accompanied him every day with various treatments, with professionalism and a lot of patience and instilled faith in himself and hope. He proved how strong he is and indeed went through and is still going through an amazing process.''
Ohana will continue his rehabilitation treatment at Hadassah Mount Scopus, but will now be able to do so without having to stay in the hospital full-time and can begin to resume his normal life. Upon parting from the department, Ohana said: "I thank the team at Mount Scopus for the long journey and the professionalism with which they always accompanied me. They did not give up on me for a moment. Thanks to you, I leave for my home today strengthened, able to walk and return to myself. There is still a long road to rehabilitation ahead of me, but I believe that with G-d's help it will be alright. I give my thanks to the people of Israel, to everyone who worried and prayed for my safety all the time, and thanks to my family."