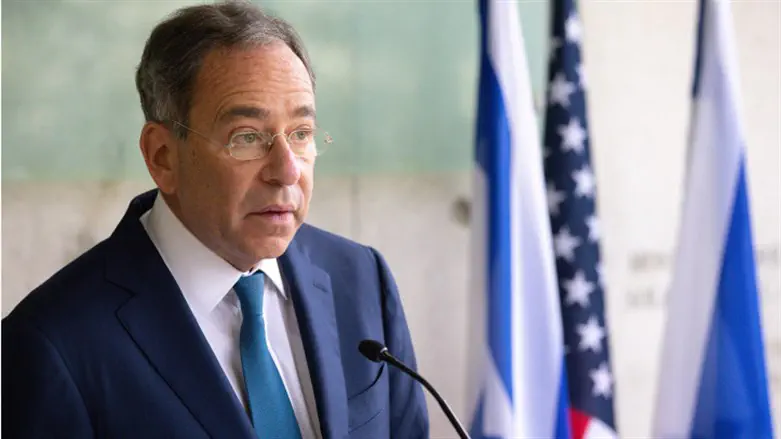 US Ambassador to Israel Thomas Richard Nides
Olivier Fitoussi/Flash90
United States Ambassador to Israel Tom Nides spoke with Israeli journalist Ilana Dayan on Galei Tzahal (Army Radio) on Thursday and stated that while he is not in a position to tell the Israeli government what to do, he does believe in expressing his concerns about the country's policies.
"First of all, Israel is a democracy; seventy percent of the country voted in the most recent elections, so I have an enormous admiration for it and its vibrant democracy," Nides said. "If there are values that we believe run contrary to the values that we share, we will articulate, friends will differ, and we will have arguments. But make no mistake: Our primary mission is to ensure that Israel remains a strong, democratic, Jewish state."
Nides also played down fears that Israeli democracy is in danger. "Democracy can withstand a lot, and that's why it's so vibrant," he stressed. "It's not our job to tell Israelis what to do; our job is to keep the relationship strong and to voice concerns around the shared values we have. When Israel does things that we believe are against those shared values I will express my opinions. It doesn't mean we have to have a fight," he added.
The Ambassador was also asked his opinion of National Security Minister Itamar Ben-Gvir's visit to the Temple Mount and why he chose to condemn it even though the visit did not alter the status quo. "I think the big deal is that we wake up in the morning and we see many of Israel's allies and friends, those Abraham Accords countries, voicing a huge amount of concern," Nides responded. "I want to keep things calm, and I want Israel to be close to its neighbors. I want the Abraham Accords to thrive, and I want things to happen that keep the status quo on the Temple Mount intact - and I want people to stay calm."
Dayan then suggested to Ambassador Nides that he should address this issue directly with Ben-Gvir rather than with Netanyahu since, she claimed, it is Ben-Gvir who is the one really making the decisions. Nides dismissed the claim, stating: "I think the Prime Minister says that he wants to be Prime Minister for all of Israel. There is just one Prime Minister, and that's the person we deal with."
Dayan also asked the Ambassador, who marched in last year's LGBT "pride march" in Jerusalem, whether he intends to participate in future such events, amid statements by coalition MK Avi Maoz (Noam) that the march should be canceled. "Of course I'll march!" Nides responded. "I'll be right at the front of the parade, in Jerusalem and also in Tel Aviv. I have no doubt that the parade will happen in Jerusalem and Tel Aviv, and Bibi Netanyahu has basically said that. I'm not concerned. I don't belive that this government would do anything to cancel it."
In closing, Nides was asked about the January 6th riots in the US Capitol which occurred precisely two years ago. Nides replied that while working for the Speaker of the House early in his career, he spent a lot of time in Representative Nancy Pelosi's office, which was ransacked during the riot. He added that he still has trauma and nightmares from that day.