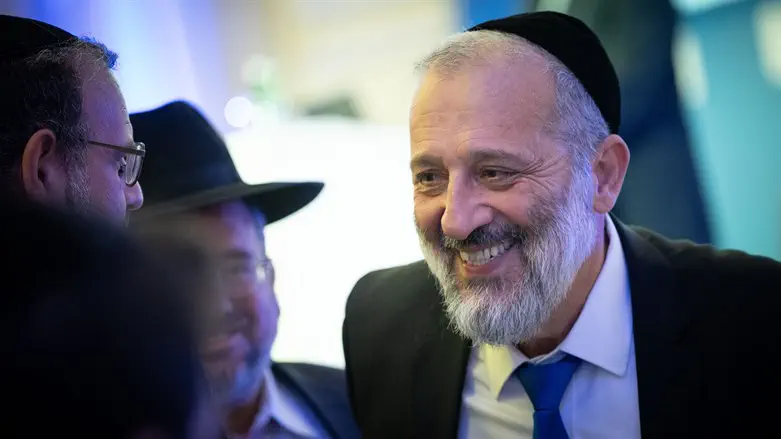 Aryeh Deri
Yonatan Sindel/Flash90
Health Minister Aryeh Deri will be examining the potential role of legislation in fighting the obesity pandemic, amid plans to reverse the tax hike on soft drinks that was imposed by the previous government.
According to Israel Hayom, in a meeting he held on Wednesday with the director-general of his ministry, Prof. Nachman Ash, Deri accepted Ash's recommendation to consult with the Ministry's experts, and in the next few days they intend to hold a meeting with the head of the nutrition department, Dr. Ronit Andwalt, as well as additional professionals.
Among the proposals under discussions are a ban on advertising snacks, candy, soft drinks, and processed food during the hours that children and teens watch television and on websites they visit, as well as promoting education toward better nutrition.
On Sunday, Finance Minister Bezalel Smotrich (Religious Zionism) ordered Ministry officials to draw up plans to cancel two taxes imposed by the previous government, one targeting disposables and the other on soft drinks. The order, issued during a meeting with Ministry officials Sunday afternoon, was Smotrich's first decision since being sworn in as Finance Minister last week.
Many coalition MKs have voiced their support for the move. Former Minister of Environmental Protection, Tamar Zandberg, spoke out against it, saying that it would contribute to pollution and declining public health. MK Uri Maklev (United Torah Judaism) responded that the impact could be mitigated by a public education campaign, adding that the government's focus on soft drinks alone rather than a broader approach targeting all unhealthy foods betrayed the real intent of the tax hike.
The taxes, proposed by former Finance Minister Avigdor Liberman, drew heavy criticism from haredi lawmakers, who accused the Bennett-Lapid government of intentionally imposing tariffs that disproportionately impacted the haredi sector and who noted that the impact on the environment made by disposable goods is negligible in comparison to other pollutants the government did not target.