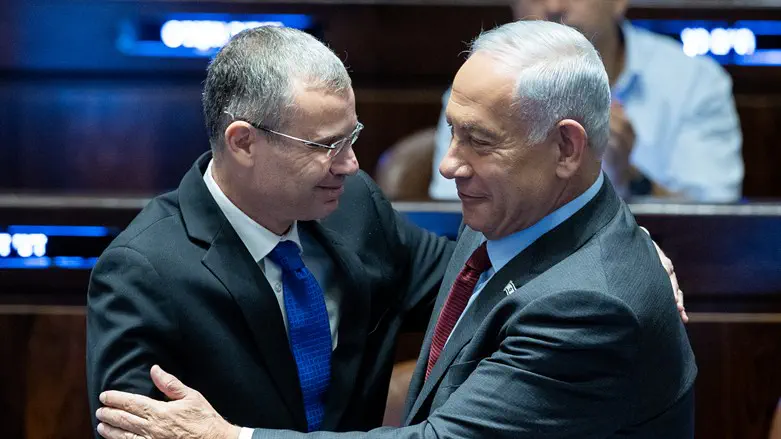 Benjamin Netanyahu and Yariv Levin
Yonatan Sindel/Flash90
Justice Minister Yariv Levin intends to advance a series of legal reforms this evening which will transform the legal system in Israel, Channel 12 News political commentator Amit Segal reported.
Among the changes are a reform of the committee which selects judges to remove the majority of judges and lawyers which currently dominate the committee. Two of the lawyers on the committee will be replaced with a representative of the government and a representative of the Knesset. This reform reduces somewhat the power of the justices to choose their fellow judges and gives that power to the other branches of government.
The power of a majority of 61 MKs in the Knesset will be expanded, and the Supreme Court will be precluded from striking down a Basic Law, which function as an ad hoc constitution for the State of Israel.
In addition, the "reasonability standard," by which the court can strike down laws and ministerial actions on the basis of their being arbitrary or 'unreasonable,' will be abolished.
Amit Segal writes: "The timing here is particularly dramatic, even before the Supreme Court discusses tomorrow the disqualification of Deri's appointment due to the reason of reasonableness. The government is already making it clear that in any event it will not allow the disqualification of Deri on reasonability grounds or the disqualification of the amendment to the Basic Law that was enacted for him."