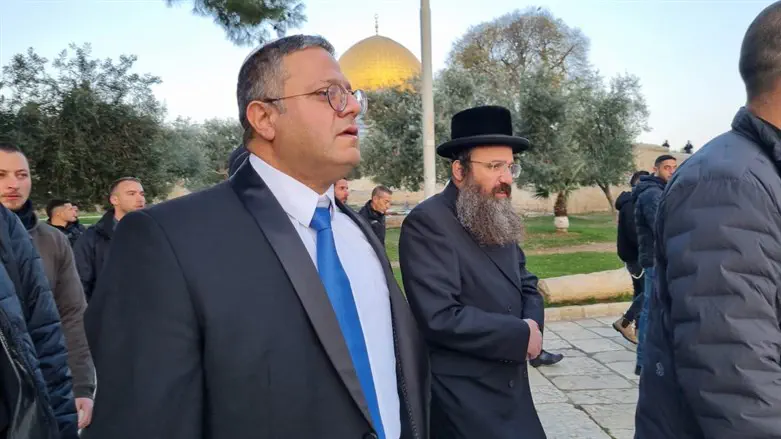 Ben Gvir on the Temple Mount
Spokesperson
Hours after visiting the Temple Mount for the first time as a representative of the Israeli government, National Security Minister Itamar Ben Gvir claimed on Tuesday evening that he did so in secret due to threats from Hamas.
"I thought it would be a great maneuver to go up to the Temple Mount like that. I would have gone up anyway, but the fact that you let Hamas understand that someone in the government caved - this government does not cave. There is no need to tell Hamas when and how to respond," he told Channel 12 News in an interview.
Ben Gvir claimed that there is "serious racism on the Temple Mount against Jews" and that it is illogical for Jews to experience racism in the country where they live.
"Jews aren't permitted to drink from the water fountain because they say we are unclean. I will fight against racism so that Jews can enter the Temple Mount," he made clear, though when asked about allowing prayer on the Temple Mount, he avoided the question and said, "When I don't want to answer, I don't answer."
In addition, the minister refused to say that he would oppose the discrimination law, though he stressed that he was against racism.
"The law spoke about not forcing haredi Jews to print ads for the pride parade. But I do say that I think a doctor should also treat members of the LGBT community and a hotel should accept LGBT people, and I said in the past that if my son had said he was gay, I would give him a hug," said Ben Gvir.