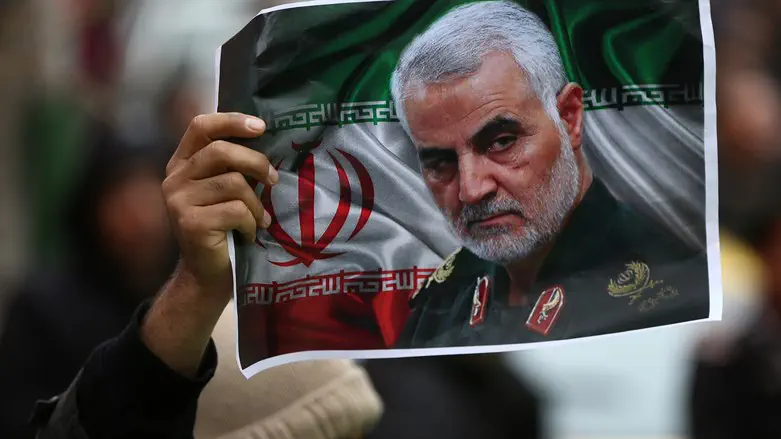 Rally in memorial of Qassem Soleimani in Tehran
Reuters
Iranian Foreign Minister Hossein Amir-Abdollahian said on Sunday that nearly 60 US officials have been blacklisted by Tehran for their involvement in the assassination of top Iranian commander Qassem Soleimani in January of 2020, the Xinhua news agency reported.
In a televised interview ahead of the third anniversary of the assassination of Soleimani, Amir-Abdollahian said Iran is investigating the US assassination of the commander.
He claimed that the Americans and Westerners are throwing a wrench into Iran's efforts to pursue the case legally, even though Tehran has taken necessary measures.
Iran has repeatedly vowed to avenge the death of Soleimani, who was eliminated in a US drone strike in Baghdad in January of 2020 ordered by then-President Donald Trump.
Iran in 2020 issued an arrest warrant against Trump and asked for Interpol's aid in detaining him in the killing of Soleimani.
Interpol swiftly rejected the request, saying its guidelines for notices forbids it from "any intervention or activities of a political" nature.
More recently, Iran announced it seeks to prosecute 127 suspects, who were not named, for involvement and cooperation in the elimination of Soleimani.
Days later, the Islamic Republic imposed sanctions on dozens of Americans, many of them from the US military, over the 2020 killing of Soleimani.
White House national security adviser Jake Sullivan later warned that Iran will face severe consequences if it attacks Americans, including any of those it sanctioned.
Last year, an animated video published on the website of Iranian Supreme Leader Ayatollah Ali Khamenei depicted the assassination of Trump.