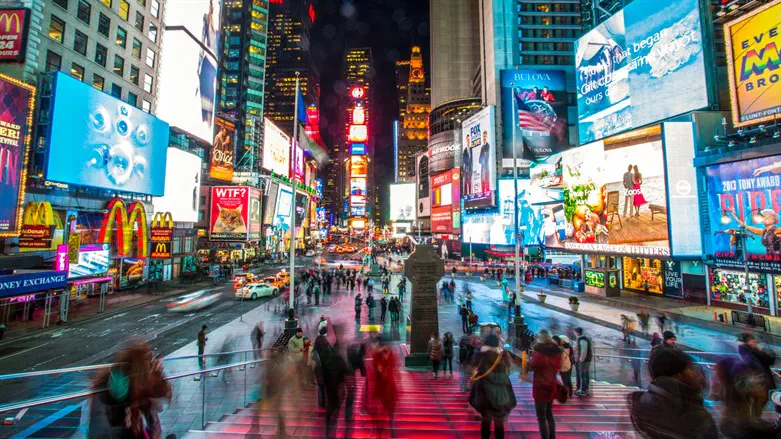 Times Square
iStock
Three officers assigned to New Year's Eve celebrations in New York City's Times Square area were injured by a machete-wielding teenager who expressed militant support for Islam, law enforcement officials said on Sunday, according to NBC News.
The attack happened shortly after 10:00 p.m. on Saturday night at West 52nd Street and 8th Avenue, just outside checkpoints for the high-security zone set up for celebrants, officials said at a news conference early Sunday.
The suspect approached an officer and tried to strike him over the head with the machete, Police Commissioner Keechant Sewell said. He then struck two officers in the head with the blade before he was shot in the shoulder and apprehended by police, Sewell said.
Authorities identified the suspect at the news conference only as a 19-year-old man. Four senior law enforcement officials said the man is Trevor Bickford of Wells, Maine.
The suspect was known to federal agents, who interviewed him in mid-December after a relative alerted them to his revolutionary support for Islam, four law enforcement sources briefed on the investigation told NBC News.
The man, who made pro-jihadist statements from his hospital bed overnight, is believed to have traveled from Wells to lower Manhattan on Thursday mainly via Amtrak, the sources said.
Investigators were probing whether he stayed at a homeless shelter downtown, they added.
Multiple law enforcement officials said they were looking into whether the suspect traveled to New York specifically to target police on New Year's Eve.
The officers who were attacked were initially hospitalized, one with a fractured skull and another with a bad cut, Sewell said. On a later call, officials said the three officers had been released from Bellevue Hospital overnight.
Since 2013, American prosecutors have charged hundreds of radicalized individuals, mostly with crimes related to support for the Islamic State (ISIS).
Last June, a citizen of Uzbekistan who is a resident of New York City and was convicted of conspiring to and attempting to provide material support to ISIS was sentenced to 15 years in prison.
Dilkhayot Kasimov, 34, was convicted of both counts following a trial in 2019. He was charged in 2015.
In April of 2021, police arrested a US couple planning to join ISIS in Yemen, just before they boarded a cargo ship bound for the country from Newark, New Jersey.
Six months earlier, an American man who was 14 years old when his father took him to Syria to join ISIS was charged with aiding a terrorist group.