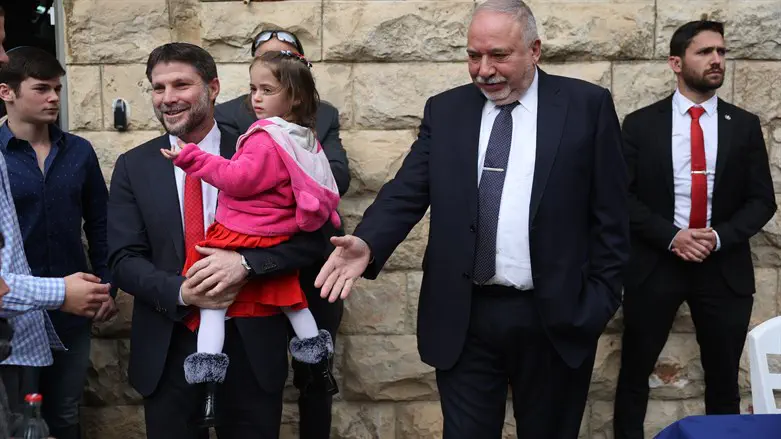 Smotrich and Liberman at transfer of power ceremony
Yonatan Sindel/FLASH90
Israel's new Finance Minister, Bezalel Smotrich (Religious Zionist Party) ordered ministry officials Sunday to draw up plans to nullify two taxes imposed by the previous government, targeting disposable cutlery and dishes, as well as sugary soft drinks.
The order, issued during a meeting with ministry officials Sunday afternoon, is Smotrich's first decision since he was sworn in as Finance Minister last Thursday.
Many coalition MKs voiced their support for the move. Former Minister of Environmental protection, Tamar Zandberg, spoke out against it, saying that it would contribute to pollution and declining public health. MK Uri Maklev (United Torah Judaism) claimed that the impact could be mitigated by a public education campaign.
The taxes, proposed by then-Finance Minister Avidgor Liberman, drew heavy criticism from haredi lawmakers, who accused the Bennett-Lapid government of intentionally imposing taxes on consumer goods disproportionately impacting the haredi sector.
Smotrich met with his predecessor, former Finance Minister Avigdor Liberman (Yisrael Beytenu) at a ceremony marking the transfer of power earlier on Sunday.
During the event, Smotrich reiterated his support for the free market, vowing to quickly draft a new state budget, based on the principles of fiscal responsibility and restraint.
"It will be a budget that leans towards growth and reforms aimed at opening up the market to competition."
"I'm a free market person, just like the outgoing minister, Liberman, and I will continue the Finance Ministry reforms that he started in order to promote competition and to create more income for the state."
Liberman cited the Mishna while speaking with Smotrich at the event, emphasizing the need for a strong Israeli economy, while hinting at the financial "demands" of the new government's haredi allies.
"There is no poor country that has a strong welfare system," said Liberman. "We have only one country. 'Without flour, there is no Torah,' so we need to create a whole lot of flour, given the demands of your partners. A great deal of flour."