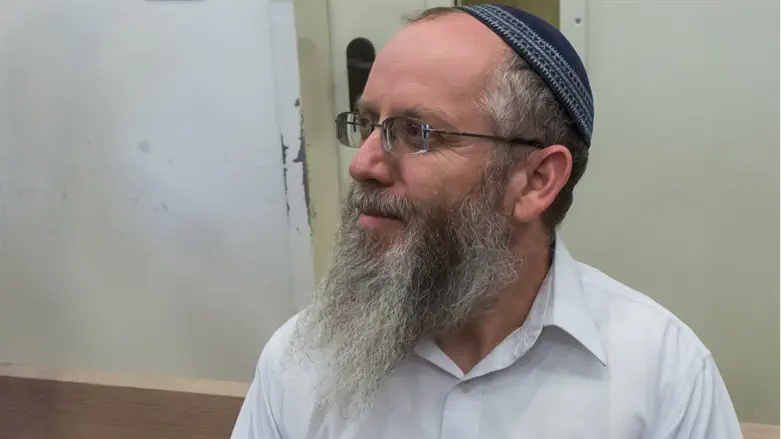 Ezra Sheinberg
Basel Awidat/Flash90
Convicted sex offender Ezra Sheinberg was released from Maasiyahu prison Sunday morning after serving his prison term.
Sheinberg was originally scheduled to be released in October 2021 after receiving time off for good behavior in prison, but his early release was cancelled following a protest by his victims.
Upon leaving the prison with a smiling, Sheinberg was asked if he had anything to say to the victims, and replied: "May they be well. I have paid my debt." Regarding providing compensation to the victims, he said: "They sued in a civil court. They will hopefully receive it."
Sheinberg, who was nicknamed "the Rabbi from the North" and lead the Ari community in Safed, was convicted of committing sexual crimes against eight women and is to be released after serving a sentence of seven and a half years. Sheinberg intends on living with his family in the Golan Heights town of Katzrin.
Dozens of women and men protested Saturday evening outside of the prison Saturday night ahead of Sheinberg's release.
Leading the protest movement was Michal Hakohen, one of Sheinberg's victims, who joined tens of women to protest his move to Katzrin: "Tomorrow the Katzrin community is expected to receive the sex offender who managed to trick women and harm them while using manipulation and charisma," Hakohen said.
"Sheinberg never expressed true regret for his actions and it is truly possible that he will establish a new community in the city and put additional women in danger of falling into his trap. We all need to protest against Sheinberg's move and point out the danger that this man poses, so we can prevent the next assault. The state of Israel must take responsibility and prevent the sex offender from returning to a community where he may return to his ways, as happens with the majority of sex offenders who end up offending again."
The protest on Saturday was part of the growing protest movement against Shienberg's move to Katzrin, on Sunday at 8:00 PM a rally will be held outside of Sheinberg's home.