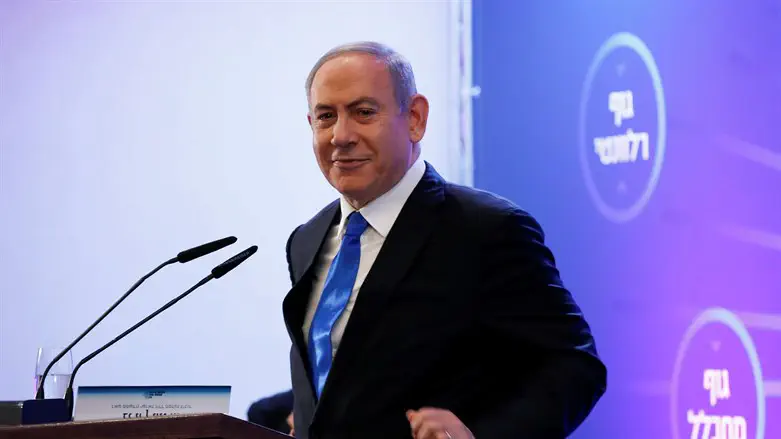 Netanyahu
Reuters
Throughout the year and a half of the Bennett-Lapid government, the opposition was furious that the two had transferred approximately NIS 30 billion to the Israeli Arab sector at the request of the Ra'am party, However, Prime Minister Benjamin Netanyahu now intends to transfer the same amount to the Arab sector.
During the coalition negotiations, Netanyahu demanded that the authority over economic development in the Arab sector be transferred from the Ministry of Social Equality to the Prime Minister's Office.
In doing so, he sought to prevent the transfer of the budget for the Arab sector, approximately NIS 30 billion, to Smotrich, Ben-Gvir or the haredim. Now it is clear why he did it - to have sole control the transfer of funds to the Arab sector and protect those funds.
During his time in the opposition, Netanyahu repeatedly came out against the transfer of billions of shekels to the Arab sector. After the state budget was approved, he said: "The government is raising taxes to give 50 billion shekels to Mansour Abbas."
During the negotiations between the Likud and United Torah Judaism in recent weeks, sources present at the negotiation meetings claimed that Netanyahu said that Ra'am chairman Mansour Abbas only received a very small part of the sum promised to him in the previous government.
Channel 12 News reported that UTJ refused to compromise on budgetary issues on the grounds that Mansour Abbas received $53 billion in the previous government. To this Netanyahu responded that in practice Abbas had received only two billion.
Likud has denied that the above occurred during coalition negotiations.
The NIS 53 billion which the previous government pledged to give to the Arab sector received was promised as part of a five-year-plan for development and economic aid for Arab communities and not meant to be distributed in a single year.