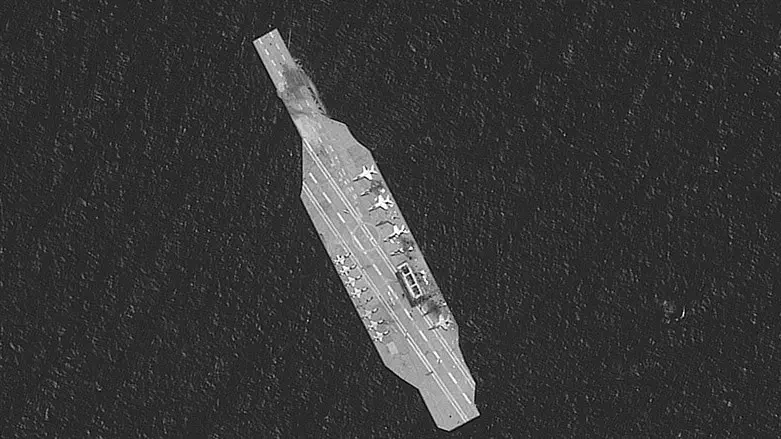 Iranian mockup aircraft carrier over Strait of Hormuz
Reuters
Iran's military launched a drone to warn off a reconnaissance plane trying to approach Iranian war games on the Gulf coast, Reuters reported on Saturday, citing Iran's semi-official Fars news agency.
The report did not specify the nationality of the reconnaissance aircraft, but Iranian forces have had repeated similar confrontations with US forces in the Gulf.
The State Department referred questions to the Pentagon, which declined to comment.
The incident comes one day after Iran launched annual joint naval, air, and ground exercises in the Gulf near the strategic Strait of Hormuz.
"During the exercises, a P-8 manned intelligence aircraft belonging to extra-regional forces, which had tried to reduce altitude to collect more accurate information from the exercise area, was forced to leave the area by the firing of a Karrar drone by (Iran's) air defense," Fars said.
The narrow waterway at the mouth of the Persian Gulf has seen a number of tense encounters between the US and Iran over the years.
In early December, an Iranian patrol boat tried to temporarily blind US Navy ships in the Strait of Hormuz by shining a spotlight toward the vessels and crossing within 150 yards of them.
In August, an Iranian ship seized an American military unmanned research vessel in the Gulf but released it after a US Navy patrol boat and helicopter were deployed to the location.
In June, three vessels controlled by the IRGC buzzed two American ships at what the US military called "dangerously high speed".
The Islamic Republic has threatened more than once to close the Strait of Hormuz, with the United States warning Iran in response that any attempt to close the strait would be viewed as a "red line" -- grounds for US military action.