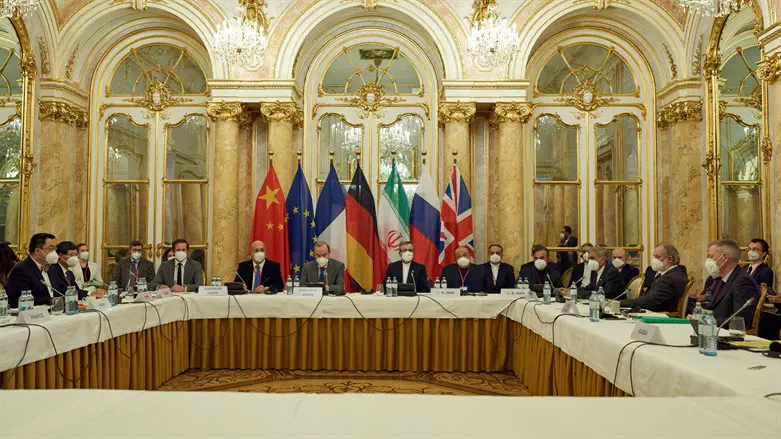 Nuclear talks in Vienna
Handout, Reuters
Iran's Foreign Minister Hossein Amir-Abdollahian said his country is still open to negotiations for reviving a nuclear deal with global powers but will alter course if the West doesn't change its behavior, AFP reports.
The remarks were made on Wednesday on the sidelines of Amir-Abdollahian's visit to Oman, a Gulf state which played a mediating role in the build-up to the original 2015 agreement.
Iran has scaled back its compliance with the 2015 deal since then-US President Donald Trump withdrew from it in 2018, but earlier this year held indirect talks with the US on a return to compliance.
Those talks have been stalled since September, when Iran announced it had submitted its comments to the US response to the European Union's draft for reviving the 2015 Iran nuclear deal.
While Iran's Foreign Ministry spokesperson said at the time that Iran's response was prepared based on a constructive approach, a senior Biden administration official said the Iranian response "is not at all encouraging."
A US official later said that the efforts to revive the 2015 Iran nuclear deal have "hit a wall" because of Iran's insistence on the closure of the UN nuclear watchdog's investigations.
More recently, the US envoy for Iran, Robert Malley, said that Iran's crackdown on protesters and the sale of drones to Russia have turned the United States' focus away from reviving the nuclear deal.
"The window for reaching an agreement on the part of the Islamic Republic of Iran will not always be open," Amir-Abdollahian said on Wednesday in a video issued by Iranian state media.
"If the opposite parties do not stop hypocrisy, especially the Americans, and the Westerners do not act realistically, it is not certain that the window that is open today will remain open tomorrow," he added.
"If the Westerners want to continue their hypocritical and interventionist behavior, we will move in the direction of another plan," he stated.