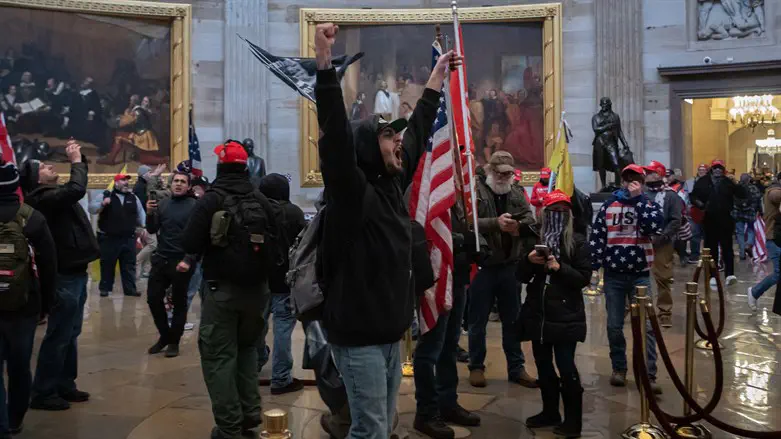 Pro-Trump protesters inside the US Capitol building
Reuters/Michael Nigro/Sipa USA
The House January 6 committee announced on Wednesday evening that it was dropping its subpoena of former President Donald Trump as it wraps up its investigation.
Panel chair Rep. Bennie Thompson (D-MS) said in a letter addressed to Trump's lawyers that the former president's testimony was no longer required, according to Fox News.
"In light of the imminent end of our investigation, the Select Committee can no longer pursue the specific information covered by the subpoena," Thompson wrote.
"Therefore, through this letter, I hereby formally withdraw the subpoena issued to former President Trump, and notify you that he is no longer obligated to comply or produce records in response to said subpoena."
In response, Trump issued a statement on Truth Social accusing the committee of admitting they "knew I did nothing wrong" and alleging that the FBI was involved in "rigging the election."
"Was just advised that the Unselect Committee of political thugs has withdrawn the subpoena of me concerning the January 6th protest of the CROOKED 2020 Presidential Election," Trump said. "They probably did so because they knew I did nothing wrong, or they were about to lose in court. Perhaps the FBI's involvement in RIGGING the Election played into their decision. In any event, the subpoena is DEAD!"
Trump was sent a subpoena by the panel in October for his testimony and documents related to the January 6 Capitol riots.
In early November, Trump challenged the committee's request for him to testify, describing the subpoena as "invalid, unlawful and unenforceable" in a lawsuit that argued the former president still enjoyed executive privilege nearly 22 months after leaving office, and cannot be compelled by Congress to appear.
In response, Thompson and vice chair Liz Cheney blasted Trump for "hiding" from the committee's investigation.
"The truth is that Donald Trump, like several of his closest allies, is hiding from the Select Committee's investigation and refusing to do what more than a thousand other witnesses have done," Thompson and Cheney said in a statement quoted by Reuters.