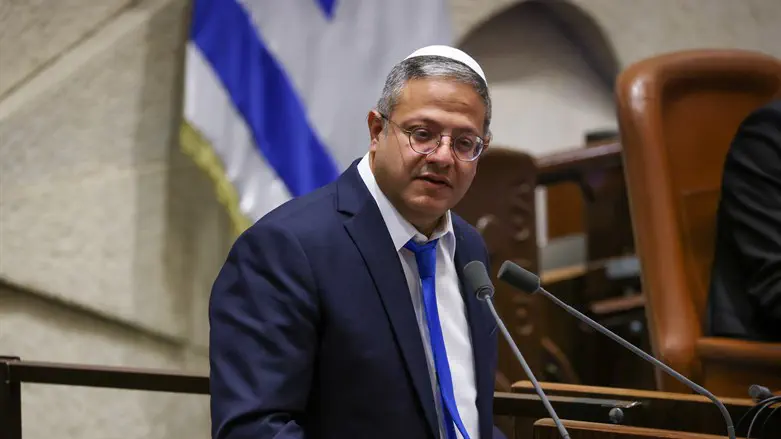 Itamar Ben Gvir
Noam Moskowitz/Knesset Spokesperson
Honorable speaker, my friend designated minister MK Bezalel Smotrich, members of Knesset, dear friends, and citizens of Israel.
I wish to tell you a story about Dana, a resident of Be'er Sheva, and a mother of two.
In the past, Dana would go jogging with friends every evening. It's been a while since Dana stopped her daily jogs, because people would always threaten her and her friends. At first it was verbal sexual harassment, but it soon became shouted comments against the state and the Jewish People.
As we said, Dana has two children, aged nine and twelve. Her kids like to play in the playground during the afternoon and there are quite a few playgrounds in the area, nice ones, very attractive, with new equipment and flowers. But for the last few months, Dana hasn't been taking her kids to the playground, and why not? Because they're no longer a suitable place for children to spend time in. They're places where you can find alcohol, harassment, and nationalist terror, as well as comments against Jews, Dana and her children feel like unwelcome guests in the playground, and that Be'er Sheva is being destroyed.
Dana works in a store, a very successful one, but the owner hasn't been doing well of late, and it turns out that although he promised himself he wouldn't pay protection, he ended up giving in. Why? Because they broke into his store once, a second time, and a third, and after the insurance companies told him that they would no longer cover him, he figured out what he needed to do.
But it's not only at her place of work. When Dana wants to visit her family and has to drive along the roads in the Negev, she thinks twice - once, because it's dangerous to leave her home to burning roads, wild drivers, threats, cursing - and twice because she feels that it's not just a bad driving culture, but a nationalist motive of Jew hatred, of harming the Jewish state, of the will to let us know that we aren't in charge here.
Dana's not alone! While the previous govenrment was in charge there were tens of thousands like Dana, who live in Be'er Sheva, Omer, and Lahavim, members of kibbutzes in the north, or farmers whose lives are being ruined, residents of the mixed cities, some of whom live in constant fear of what the next day may bring.
This is happening in the Negev, in the Galilee, in mixed cities, and it is even happening in Jerusalem, where people are scared to walk through Damascus Gate and think twice before visiting the Western Wall.
This is not only a nationalistic issue. It's also a question of regular crime and many citizens in the center of country are afraid to honk their horn at someone on the way to work, as they could get stabbed in return.
Citizens of Israel, the position that I am taking today is going to be a tough challenge, but I'm up to that challenge.
I'm up to the challenge on the behalf of Dana, her children, the residents of Be'er Sheva, the residents of the Negev, and all the residents of Israel.
We will face this challenge because we don't have anywhere else to go. It's a challenge that's like running a marathon, with ups and downs. We're going to sweat a lot, work hard, and we won't always succeed, but I promise to fight, and ultimately, to win.