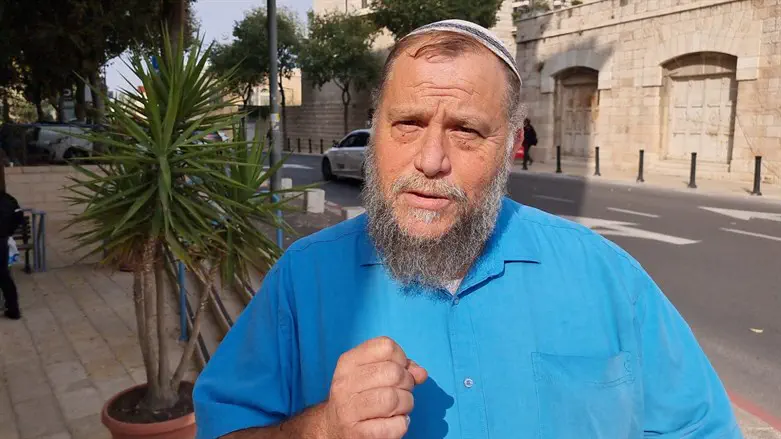 Bentzi Gopstein, head of Lehava
Israel National News
Five years after Sara (not her real name) converted to Islam, the Haifa Rabbinical Court certified her return to Judaism, and also registered her daughter as Jewish, in an emotional ceremony held this Wednesday.
Anat Gopstein, head of Lehava's treatment and rehabilitation program, accompanied Sara and related that uppermost in the mother's mind was the concern that her daughter should be registered as a Jew. "She wasn't prepared to even think about the possibility that her daughter would be registered as a Muslim, when her only 'sin' was that her mother had chosen a wrong path in life," Gopstein said.
"I made a mistake and paid a heavy price," Sara said at the ceremony. "It was so important to me that my daughter should be registered as a Jew, that she should know about Judaism. This year, as I lit the Hanukkah candles with her, I made the decision that my daughter was Jewish and that she would be registered as Jewish."
Bentzi Gopstein, director of Lehava, notes that, "This was not a simple process at all. When a Jewish woman renounces her Jewish identity due to an illusion of being in love and a relationship that at first seems promising, reversing this isn't easy. These women renounce their identity, their families, and their entire life beforehand due to this 'love' and it's only later that they realize the extent of the disaster that has befallen them.
"The disaster, the tragedy isn't just the violence they're subjected to," he adds. "It's also the long-term consequences that follow them even when they come to their senses and want to return to a normal life. They then find out that they have essentially cut themselves off from their roots and that worse still, their children are registered as Muslim. In most cases, it's extremely difficult - in fact, virtually impossible - to have such children registered as Jewish when they're still under the age of 18. In this particular case, we had enormous Divine help and we succeeded."
Gopstein then appealed to any woman who finds herself in a similar situation: "Come home, come back to the Jewish People. We're here for you and we'll do everything necessary to make it happen."