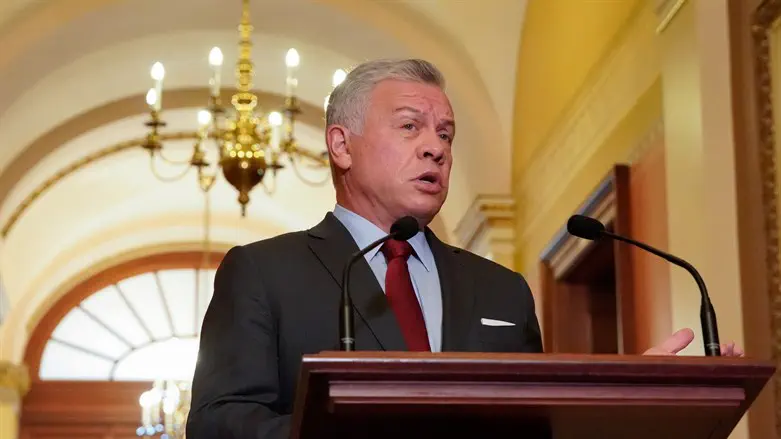 King Abdullah II
Reuters
Jordan's King Abdullah II told CNN an interview that he is prepared for conflict should the status of Jerusalem's holy sites change as Israel prepares to swear in its new government.
The Jordanian King said that there is "concern" in his country about those in Israel trying to push for changes to his custodianship of the Muslim and Christian holy sites in Jerusalem, warning that he has "red lines."
"If people want to get into a conflict with us, we're quite prepared," he told CNN. "I always like to believe that, let's look at the glass half full, but we have certain red lines… And if people want to push those red lines, then we will deal with that."
"We have to be concerned about a next intifada (uprising)," continued the King. "And if that happens, that's a complete breakdown of law and order and one that neither the Israelis nor the Palestinians will benefit from. I think there is a lot of concern from all of us in the region, including those in Israel that are on our side on this issue, to make sure that doesn't happen."
Responding to a question on the view of Otzma Yehudit chairman Itamar Ben Gvir, who is set to become Israel's National Security Minister, King Abdullah told CNN, "I don't think those individuals are under just a Jordanian microscope. They're under an international microscope. I have to believe that there's a lot of people in Israel also that are concerned as much as we are."
He refused to say how Jordan would respond to changes in the status of the holy sites. "At the end of the day, the Israeli people have the right to pick whoever they want to lead them… We will work with anybody and everybody as long as we can bring people together," he said.
Israel's integration into the region is "extremely important" but it is "not going to happen unless there's a future for the Palestinians," the King added, pointing to the overwhelming support shown by Arab soccer fans for Palestinian Arabs at the recent FIFA World Cup held in Qatar.
Jordan signed a peace deal with Israel in 1994 but its parliament, which is made up mostly of Islamists, remains anti-Israel and its members have more than once called to annul the peace treaty. This decision, however, can only be made by the King.
In an interview with CNN in July of 2021, King Abdullah II said he was encouraged by meetings he had with then-Prime Minister Naftali Bennett and Defense Minister Benny Gantz.
"I came out of those meetings feeling very encouraged. We've seen in the last couple of weeks not only a better understanding between Israel and Jordan but voices coming out from both Israel and Palestine that we need to move forward and reset that relationship," the King said.
"We must bring about the restoration of contacts between Israel and the Palestinians, even though the conditions are not optimal for the implementation of a two-state solution," he added.