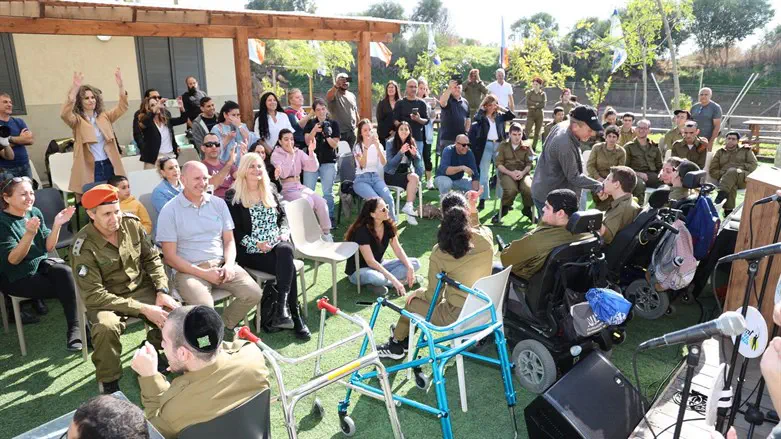 The ceremony
Special in Uniform
The sun shone brilliantly on the Arad Base in Yehud, and the lyrics of "Yachad Lev El Lev" sung by soldiers with special needs filled the air as eight adolescents with cerebral palsy received their dog-tags, badges and berets and celebrated their long-awaited induction into the Israel Defense Forces.
For the past two years, a group of wheelchair-bound teens from Herzfeld Special Education School in Holon traveled several times a week to Arad Base in Yehud where they participated in a volunteer corps of the IDF and received intensive, one-on-one and group training that improved their physical, cognitive and social skills. Last week, two years of effort were crowned in success, as they reached their goal of becoming full-fledged soldiers in the IDF.
"Today is a special day reflecting Israel's commitment to the inclusion of people with disabilities," said Mendy Belitzky, founder of Lend-A-Hand to a Special Child, which collaborated with JNF-USA and the IDF to found Special in Uniform.
A groundbreaking program of the IDF integrating adolescents with mild physical and mental disabilities and autism into the Israel Defense Forces, Special in Uniform (SIU) is paving the way for an inclusive society in Israel. Military service is a rite of passage of sorts for Israeli high school graduates, as well as the gateway to a successful career and future. Special in Uniform offers adolescents with special needs training and skills that empower them to integrate long-term into Israeli society and the workforce by accentuating the unique talents of each participant and placing him or her into an appropriate setting within the IDF.
Special in Uniform's volunteer training program culminates with graduating youths receiving their soldier's IDs and being deployed to military bases across Israel where they cull from the knowledge and skills that they acquired to perform important jobs on base, forget their disabilities and focus instead on their versatile abilities and talents. Since its inception in 2001, 2000 Israeli youths with physical and mental disabilities have participated in the program, and of these, 400 continued to the next stage and were inducted into the IDF.
The IDF's newest unit of inductees was sponsored by Advanced Nutrients, a company affiliate of cannabis king "Big Mike" Straumietis whose Humanities Heroes charity is changing the world. On a trip to Israel last year, Straumietis, who is most famous for his efforts to legalize marijuana, was introduced to soldiers from Special in Uniform and was so touched that he pledged to sponsor a unit on the spot.
"The Advanced Nutrients unit inductees take SIU to a new level, as the army is now able to absorb soldiers in wheelchairs, which is truly a historic accomplishment," says Colonel Rami Hassan, who directs the Special in Uniform branch in Arad Army Base in Yehud. "In the past, adolescent with special needs received automatic exemptions from military service, but now the IDF has learned to incorporate them into its multilayer system which empowers not only the soldiers to give and contribute to society, but also allows the country to benefit from their skills. At Special in Uniform, kids with low self-worth mature into independent, confident young men and women who believe in themselves and their abilities. Throughout their years of military service, they acquire important social and life skills that enable them to meld seamlessly into society and the workforce."
Nofar of Holon has cerebral palsy and is wheelchair bound, but that didn't stop her from making the courageous leap to become a full-fledged soldier. Her mom Efrat shares: "When our family learned about Special in Uniform from Herzfeld, we understood that this was a singular opportunity for Nofar to realize her dream and make a significant contribution to the State of Israel in a strong, supportive environment."
Special in Uniform has endowed Nofar with all the knowledge and skills necessary to realize her dream of becoming a soldier like her dad, older siblings and cousins. Throughout her volunteer stint, she was trained by outstanding commanders and flourished in SIU's warm, inclusive and accepting social environment. Most important, she gained confidence in herself, her strengths, and her abilities to succeed.
Eitan*, another brand-new soldier, was grinning from ear to ear as he received his dogtag and beret along with seven peers, and he shares his feelings about this momentous day in his life. "I have cerebral palsy, which affects my mobility and speech. Yes, I'm confined to a wheelchair, but today, I've left my disabilities behind! Today, I'm a soldier, an equal. I can give to the country, and I will make everyone proud."
An outgrowth of Special in Uniform is the popular military band which recruits talented singers and musicians from the special-needs corps to perform in various military and political events. In the two years since its inception, SIU Band, which is conducted by former IAF Band producer Ido Dekel and encompasses 18 young musicians and vocalists with physical and/or mental disabilities, has delighted and inspired listeners and fans the world over. Through performances that have gone viral, Special in Uniform Band is spreading vital messages of unity, inclusion and acceptance. At last week's induction ceremony, the new soldiers received their berets and dog-tags to the lyrics of Yachad Lev el Lev, which translates into "Together, Heart to Heart" aptly expressing the overwhelming sentiments of gratification, inclusion and love that pervaded the base on this day.
The ceremony was attended by Home Front District Commander of the Dan Region Colonel Chai Rokach who shared: "Special in Uniform and its Band prove that Israel is a country that prides itself on inclusion and acceptance. This is a colossal achievement for our special kids, their parents and Israeli society as a whole. I have no doubt that with the support of our faithful partners worldwide, most notably JNF-USA and Big Mike, there will come a day when every Israeli citizen, regardless of physical or mental disability, will know that he is of equal value to his fellow citizens."
After receiving their dog-tags, the beaming soldiers were lifted by their parents out of their wheelchairs, and they all danced together celebrating the realization of a collective dream.
Major Rami Hassan stated: "The Special in Uniform soldiers serve our country with love, faith, and commitment. I observe, every day, how military service enhances their characters and personal growth, and how they, likewise, contribute their all to the IDF. They're amazing, and I never cease to be awed by how, together, we've created an inclusive military whose hallmarks are its values and ethics." Hassan shares that the brand-new inductees will be integrated into a company of soldiers who will prepare kits for Home Front Command to be distributed in schools around the country.