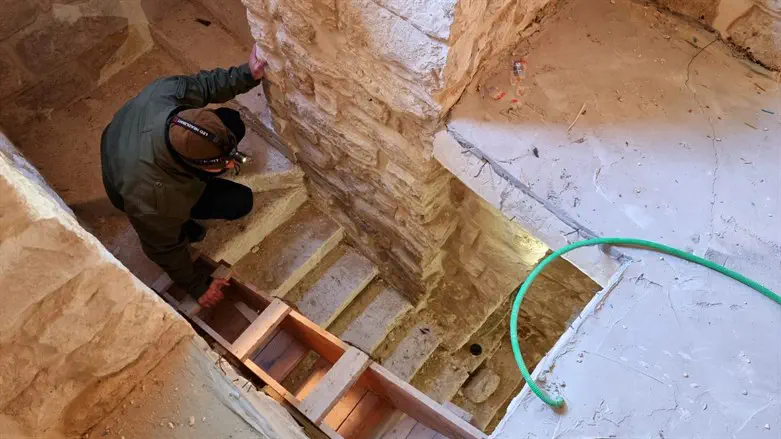 Continuing the search
Israel Dog Unit
Yesterday (Tuesday), the Israel Dog Unit (IDU) conducted another search in the Mount Meron and Safed area in an attempt to track down three missing people from the past year, teenager MoishE Kleinerman, Rafael Haim Hadad (about 60 years old) and Moshe Eliezer Ilovitch (in his thirties).
Aharon Streicher, the unit's spokesman, talks about the chances that still exist to decipher the mysteries: "First of all, we don't give up," he begins, and then he explains that the disappearance of Kleinerman last Lag Baomer is similar to that of Moshe Ilowitz (40) who was last seen entering the forest around Mount Meron in 2019 and never seen again.
"The public should know that even if we bring battalions with thousands of soldiers to conduct a scan of the Mount Meron and Safed area over several weeks, we cannot say that the area will have been 100 percent covered. It is a complex area, with pits, caves, impassable areas, and more," says Streicher. He went on to describe "a unique application that records what we do. Each searcher gets a color and we know by what means he scanned an area, so we can return to the same area again and again."
Streicher emphasizes that even if it seems that there is some connection among all the missing individuals, at least in terms of their sectoral background, it must be remembered that "each missing person is a story in itself. Each missing person is located in a different place. Even if they come from the haredi religious sector, we cannot say that they have more in common than that. Everyone has a different profile and according to that profile, a set of goals is determined."
"The emphasis in the unit is documenting what is done. When you get to an area as complex as the Mount Meron area, we must document, and that is why sometimes it takes months or years." However, he goes on, "We pray for the best. We have to remember that behind every missing person there is a family with an open wound. It is most difficult when we don't know what happened to the missing person and there are cases in which people's remains or items are found after decades. Therefore, we certainly shouldn't give up even after months."
"There have been close to 600 missing persons since the establishment of the state. Statistics say that they are found within a radius of 500 meters from the place of disappearance, but we cannot always be sure about that because in many cases it may be that the disappearance actually began from another point. Perhaps the individual traveled from the Mount Meron area to Tiberias or Beit Shean the following day."
Streicher also comments that "anything can happen when it comes to missing persons. Sometimes it turns out to be the opposite of what we thought. This is why the difficult work of searching continues."