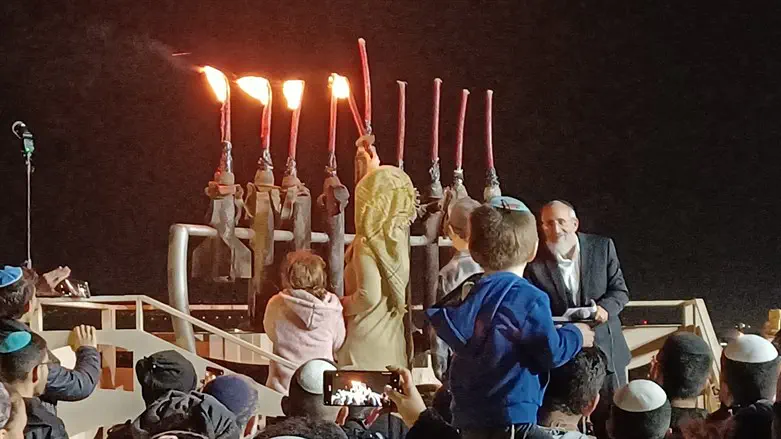 The Menorah made of Qassam rocket scraps
Sderot Hesder Yeshiva
This past Sunday, on the 8th night of Hanukkah, the Max and Ruth Schwartz Hesder Yeshiva of Sderot hosted Efrat Raz, whose husband Noam was killed in action in the Jenin area a few months ago.
For the past decade the Yeshiva has paid tribute to fallen heroes of Israel during their traditional Hannukah candle lighting ceremony on the Yeshiva's roof. The menorah used is made of qassam rockets fired at Israeli civilians by terrorists in Gaza.
Noam Raz served in the YAMAM, Israel's national counterterror unit, and was killed on a Friday afternoon in May, only a few hours before Shabbat. He was the sole casualty of several hours of gunfighting between Israeli forces and terrorists in multiple locations throughout Jenin. A senior member of the forces involved commented that 'thousands of rounds were fired at us. I've never seen anything like it.' The battle involved missiles being fired at one of the houses where the terrorists were entrenched, and significant damage to multiple IDF vehicles.
The targets were arrested at the end of the battle. Noam was reportedly struck by a single bullet to the neck as the Israeli forces were withdrawing. He was airlifted to hospital care, but later died of his wounds. He reportedly served as a paramedic, breacher, and sniper in addition to his regular combat service, was survived by his wife and six children.
His death drew widespread criticism among the opposition parties at the time, several of whom insisted and that the operation had been flawed from the outset and that the chain of command should have authorized more forceful measures to secure the objectives. One of Noam's sons commented that the IDF ought to have bombed the building in which the terrorists were concealed. The Prime Minister at the time, Naftali Bennett, met with other members of the unit to discuss the incident, and shortly thereafter it was announced that drone strikes would be reauthorized in Judea and Samaria after having been forbidden for use for a period of several years.
Rabbi Ari Katz, Director of PR for the Sderot Hesder said "Our menorah illuminates the town of Sderot with Torah and Zionism. We may suffer losses at times but we will not be deterred. We are here to stay!"