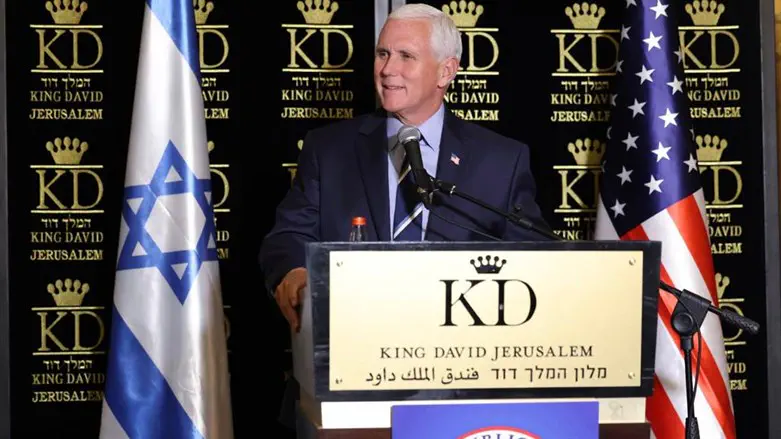 Mike Pence
Shauli Landner
Sky News reported on Monday that former US Vice President Mike Pence had filed the required papers to run for President in 2024.
However, the report which was quoted by several other outlets, was deleted a short time later, and his former spokesman denied that Pence had filed.
"Former Vice President Mike Pence did not file to run for President today," Devin O'Malley posted on Twitter.
The initial report appeared to be based on a Federal Election Commission had posting which said that "Mike Richard Pence" had filed the papers needed to run. The Washington Examiner, which also briefly reported the alleged Pence run, noted that Pence's full name is Michael Richard Pence.
It is unclear whether the filing on behalf of Pence was filed accidentally or whether someone had attempted to impersonate the former Vice President.
O'Malley tweeted, "I think someone pranked you" after Washington Examiner White House reporter Christian Datoc tweeted that Pence had filed with the Federal Election Commission.
Datoc responded, "For clarity, I deleted a tweet saying former VP Pence filed to run for President," linking to the FEC filing.
Pence recently toldFox News that he will announce a decision on seeking "national office" in the new year.
Asked whether he would consider running for the open Senate seat in Indiana, the state he was the governor of from 2013 to 2017, Pence said: "I think if we were ever to step forward to serve the American people that would be to take all the experience that we've had and run for national office."
Pence had recently hinted he may not be supporting Donald Trump if he runs again for the White House in 2024. Trump has since officially announced his candidacy.
Speaking during an event at Georgetown University, Pence was asked by a student if he would vote for Trump in 2024 and replied, "Well, there might be somebody else I prefer more."
"All my focus has been on the midterm elections, and it'll stay that way for the next 20 days. But after that, we'll be thinking about the future," Pence added. "Ours and the nation's. And, I'll keep you posted."