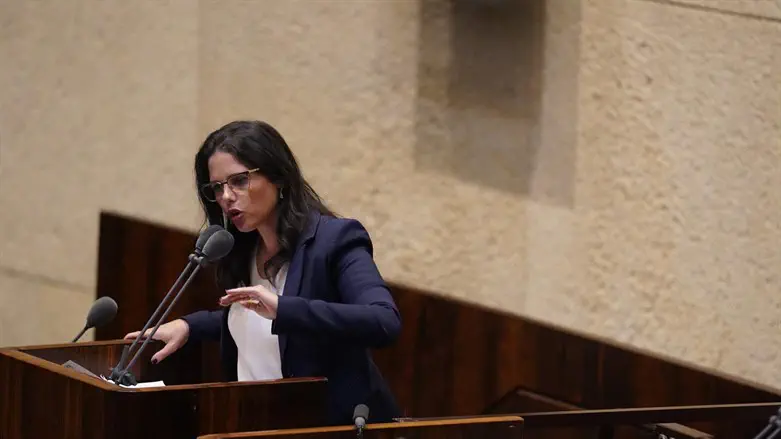 Ayelet Shaked in the Knesset
Shmulik Grossman, Knesset spokesperson
Interior Minister Ayelet Shaked delivered a farewell speech in the Knesset plenum on Monday.
Shaked dedicated the beginning of her speech to the memory of the late Rabbi Chaim Druckman and said, "When I joined politics and ran in the primary of the Jewish Home, Rabbi Druckman received me with a lot of warmth, love and openness, as someone who is not religious, and this acceptance is very much what characterized him."
Later, Minister Shaked turned to the members of the Knesset and said, "Dear members of the Knesset, who today are in essence entrusted with safeguarding the State of Israel and the Knesset of Israel: Do the best you can. I have hardly come here in the last year and a half. The feeling here was that this hall had turned into a kind of poison pit. So try to make it better, as it was in the past, when there were many disputes, but at least we respected one another."
Shaked commented on the various laws that the future government intends to enact and said: "I live politically in the right-wing camp, both in the secular right and in religious Zionism, but I reside in Tel Aviv in a secular society and in recent days I have been contacted a lot. I have been contacted by friends who told me about their friends who are talking about leaving the country. So first of all, it's a shame that they didn't have the opportunity to talk to Rabbi Druckman, because he would surely have told them that this is an act that should not be done. We don't have another country, but you have to take into account, those who sit here, this feeling of a portion of the public, especially against the background of these new laws, the discrimination and racism law that is being talked about."
"I really suggest not getting into these things. It just gives a lot of people a bad feeling, it just hurts the State of Israel. You have very big challenges - reforming the judicial system, dealing with governance, crime, the economy. Deal with what is important and not with what is not important and which creates fear and deterrence. So thank you very much for wonderful years and lots of luck to all of you," she concluded.