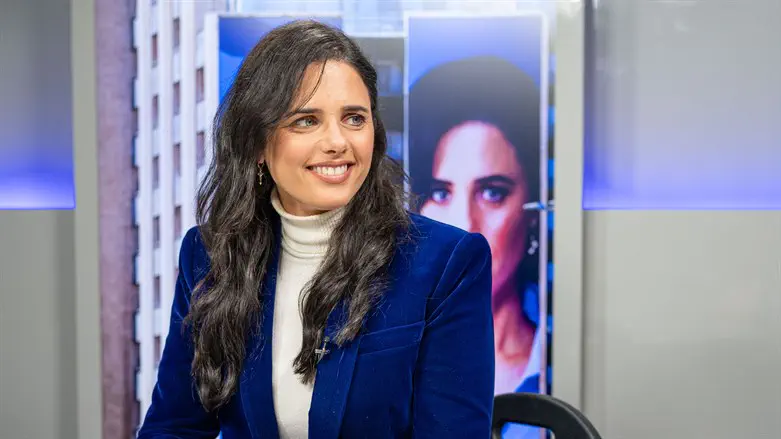 Ayelet Shaked
INN
Interior Minister Ayelet Shaked visited the Israel National News-Arutz Sheva studio in Jerusalem Monday to discuss the relationship which was maintained between her party and the late Rabbi Chaim Druckman despite Rabbi Druckman's opposition to the formation of the outgoing government with Yair Lapid.
Shaked said that her last meeting with Rabbi Druckman was about two and a half months before the most recent Knesset elections. "I wanted to talk to the rabbi and invited all the members of the faction.," she said.
"What happened there was not published, but each of the members of the faction poured out their hearts and spoke about their religious Zionist identity and how important it is to them that the party passes the electoral threshold. Some of them even cried.
"The rabbi listened to everyone. There was also a lot of talk about the incitement of the last year. He said that he was not aware of some of the things [which were said]," she said.
Shaked noted that Rabbi Druckman remained in touch with her and her party despite his opposition to the outgoing government. "He was one of the opponents, but It should be remembered that before the government was formed, I sat down with the rabbi together with Bezalel [Smotrich] and we tried to find other solutions for establishing a right-wing government with 59 seats. He was open to it, but later decided not to support it, but even throughout the last year and a half we kept in touch through phone calls. He was also involved in the conversion plan together with Matan Kahana."
Shaked added that in the decade she has known Rabbi Druckman, he was always available at any time. "This is an extraordinary personality. He never said a bad word about anyone. I spoke at the funeral with his daughter and we both said this to each other. He always took responsibility in every matter."
According to her, Rabbi Druckman even remained in contact with former Prime Minister Naftali Bennett during his term in office, and listened whenever Shaked complained to him when she felt that certain criticism of the government crossed the line into incitement. "He called them and asked them to stop. He never said a bad word. Subjective criticism yes, but never incitement."
"He never called for anything that was just about him. It was always about the people of Israel in general or the institutions of religious Zionism," she said.
"He was the only leadership figure accepted by everyone and who united everyone, so his loss is very great. They usually say that everyone has a replacement, but I think that there is no substitute for Rabbi Druckman,"