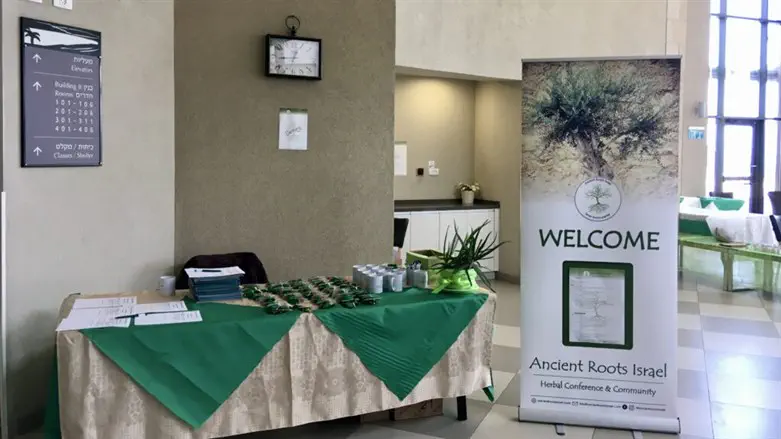 2020 Ancient Roots Israel (ARI) conference
Malkie Swidler, courtesy of ARI
Ancient Roots Israel (ARI) is the first international herbal conference and community based in Israel. Through teaching about the healing power of medicinal plants, ARI hopes to empower people by helping them to become more self-reliant.
The organization offers over 100 YouTube videos taught in English, including a Virtual Plantwalk series, which shows how to identify and prepare certain herbs, and explains which ones can help to boost the immune system and mitigate anxiety and stress. All of the videos are free, with the exception of a first aid course.
Most people do not realize that 40 percent of Western pharmaceutical medications are derived from plants, and that oftentimes the cure to an ailment can be found right outside in nature. ARI Founder and executive director, J. Rivkah Asoulin explains, "G-d created the cure before the illness… Our ability to heal ourselves is our birthright, and we want to return the birthright to the people. Once you realize you can do things for yourself, you come from a place of power, rather than a place of fear."
In 2020, ARI hosted its first conference, which was attacked and boycotted by BDS (Boycott, Divestment and Sanctions) activists, but was still a successful event that attracted attendees from all over the world. Because of Covid restrictions, their second conference got derailed, but ARI 2023 will now be held on January 22-24, 2023 at the Ana Poriya Resort near Tiberias. "We're bringing in the biggest names in herbal medicine to this country really for the for the first time, " Asoulin says. "It's a once in a lifetime opportunity for Israelis to meet these instructors. People come from other countries to learn about herbal medicine here in Israel."
Asoulin first started taking herbal remedies while struggling with a health issue that could affect fertility, which Western medicine couldn't treat without the use of a drug that had dangerous side effects.
She cured herself and today, she has seven children and works as a women's health and holistic fertility consultant at Wise Women Fertility. She is also the creator of JFAM, the only Jewish symptothermal method of fertility awareness method.
Notable American herbalists who will be flying in to speak at the event include Matthew Wood, whose knowledge about herbal medicine, homeopathy and Traditional Chinese medicine has made him an internationally acclaimed author and practitioner and Sara-Chana Silverstein, a best-selling author, classical homeopath and lactation expert who has appeared on NBC, CBS and FOX News.
Israeli speakers like Nissim Krispil, author of the first Hebrew herbal encyclopedia, Nir Avraham, co-owner of Trifolium Pharmacy, the first official 100 percent herbal medicine pharmacy in Israel, and Peretz and Roni Gan, co-founders of the Al-Alim Center for Herbal Medicine, will also be speaking at the conference.