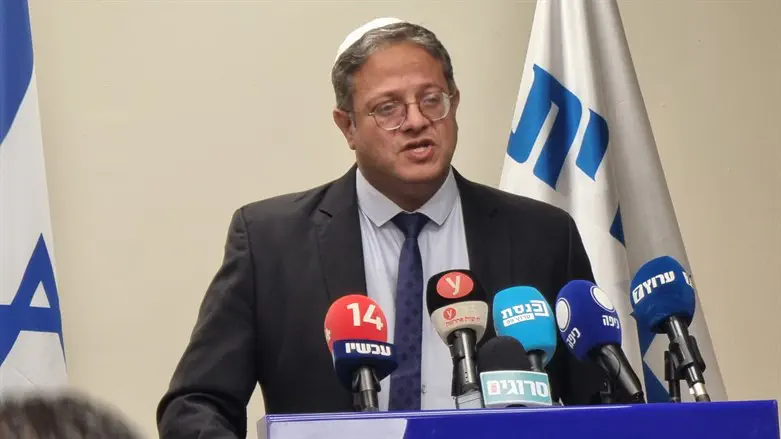 Ben-Gvir
צילום: ערוץ 7
National Security Minister-designate MK Itamar Ben-Gvir (Otzma Yehudit) pushed back Tuesday morning, after the US State Department called for "accountability" following the accidental shooting of a Palestinian Arab teenager during a gun battle between IDF forces and Arab terrorists in the northern Samaria city of Jenin.
"The comments by the American government are distressing," Ben-Gvir said.
"When hundreds of bullets were fired by terrorists at IDF soldiers and Border Police officers, we cannot judge our soldiers as if they are working in a laboratory situation."
"Without a doubt, the teenage girl's death is a tragedy, but there is also no doubt that any other army in the world would have completed the kind of operation we carried out in Jenin with dozens of hostiles killed, and not with measured, pinpoint operations."
"I call on the residents of Jenin and the civilian population there not to leave their homes when terrorists are shooting at IDF soldiers. I give my backing to the IDF soldiers and Border Police officers. They have the right to defend themselves."
On Monday, State Department spokesperson Ned Price called for "accountability" following the death of a 16-year-old Palestinian Arab girl during Sunday night's clashes in Jenin.
"We do express our profound condolences to the family of Jana Zakarneh, the young teenage girl who was killed. This – it is a tragic incident. It's a heartbreaking incident any time you hear of a civilian being killed in these types of operations."
"We understand the IDF is undertaking an investigation into what happened. We hope to see accountability in this case. I did note that outgoing Prime Minister Lapid did offer his condolences to the family of Jana Zakarneh, and we note that that her tragic death comes in the context of the escalating violence in the West Bank that we've noted and lamented for some time now," he added.
"It is this alarming increase in Palestinian and Israeli deaths and injuries, including injuries to numerous children and now the death of a young Palestinian teenager – we reiterate the need for all parties to take steps to de-escalate the situation. It's vital that the parties themselves take urgent action to prevent even greater loss of life," said Price.
The IDF has said Zakarneh was likely killed by an IDF sniper who mistook her for a terrorist, due to her proximity to a group of terrorists during the Jenin gun battle Monday.