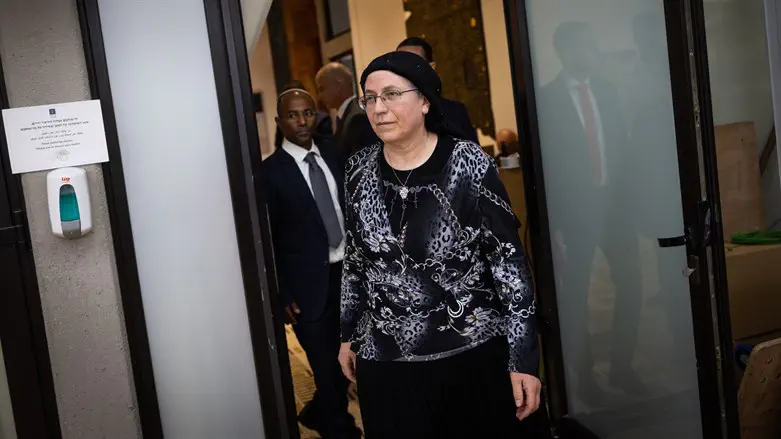 Orit Strock
Photo by Yonatan Sindel/Flash90
MK Orit Strook (Religious Zionism party) responded Wednesday to the Likud's calls to finalize the coalition agreement so a new government headed by Benjamin Netanyahu can be formed immediately.
Strook stated that "a government is established to bring change," and used the Religious Zionism party's demands to stop the transfer of funds to the Palestinian Authority and that the government stop the PA's illegal takeover of Area C.
"There is no law book anywhere in the world that says: 'Whoever kills a Jew will receive money,'" MK Strock said. "It's only the Palestinian Authority that has such an antisemitic law. There is no point in forming a government that will continue to waver in the face of this murdering authority, that refrains from defining as an enemy and allows it to continue stealing our country. That's what our debate is all about."
Strook was responding to the comments of Likud MKs following the deadly double bombing in Jerusalem Wednesday morning.
MK Galit Distel Atbaryan said "The disconnect between the horrible reality we woke to this morning and the pickiness of the right-wing parties must stop today. Our voters don't care which job any of get, and rightly so. You can't lament how bad the security situation is and then take your time picking your jobs like it's a buffet, Enough already. Let's make a government today."
Similarly, fellow Likud MK Miki Zohar said: "The enemies of Israel are striking us because they sense weakness. Another murderous attack in which civilians were killed and injured. The people of Israel expect us to restore peace to the streets and all arguments about one portfolio or another are a mistake that we will pay for. The country is burning."
MK Shlomo Karhi also said: "Our main task now is to restore national security and pride. We must not drag our feet in negotiation games any longer."
Religious Zionism party chairman MK Bezalel Smotrich said following the bombing: "The murderous Arab terrorism is knocking on our door, we must establish a national government immediately. I call on Prime Minister-designate Netanyahu to convene the leaders of the factions in order to reach agreements and form a right-wing government that will make a real change and restore security to the citizens of Israel.''