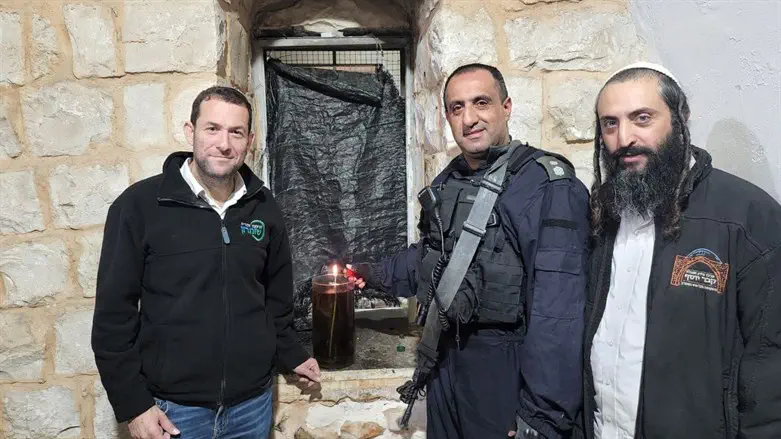 Yossi Dagan and Adel Yousouf
Samaria Regional Council spokesperson
Hundreds of people entered Joseph's Tomb last night (Tuesday) as part of the regular visits to the holy site organized by the Samaria Regional Council ahead of Rosh Chodesh Kislev.
Among the visitors to Joseph's Tomb were Samaria Regional Council chairman Yossi Dagan and his Deputy Davidi Ben-Zion, Rabbi Oury Cherki, and police superintendent Adel Yousouf, the cousin of the late Madahat Yousouf, the Border Police officer who was murdered while defending Joseph's Tomb in October 2000. Adel has commanded the Border Police force in Samaria for the last three years, including being responsible for security at Joseph's Tomb.
During the visit, a terrorist opened fire at the soldiers who were guarding the worshipers. The soldiers returned fire.
Samaria Regional Council chairman Yossi Dagan said: "We are saying goodbye at this entrance to superintendent Adel Yosuouf, cousin of Madahat Yousouf, who for three years protected the security of the residents of Samaria, commanded the most important security aspects at the entrances to Joseph's Tomb. I thank you on behalf of all the residents of Samaria, on behalf of the people All of Israel, we salute you and all the soldiers who are under you and by your side in all the different divisions, and the entire family of Mahadat Yousouf,"
"We will always be a family, there is a covenant of blood between your family and all of us, with Joseph's Tomb, and now we will work to bring all the people of Israel here, to strengthen ourselves in the image of Joseph the Righteous," he added.
Adel Yousouf said: "Each time I get emotional. We will continue to in the memory of Mahadat, who was murdered here. Each time I come to Joseph's Tomb I get emotional anew."