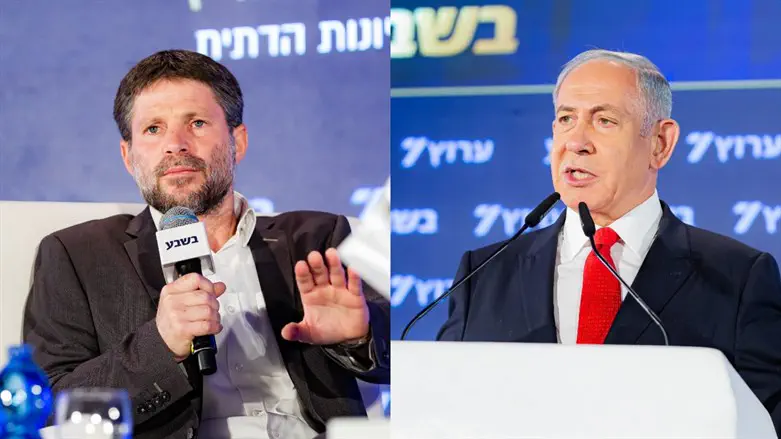 Benjamin Netanyahu and Bezalel Smotrich
Haim Twito
A new crisis in the negotiations on the formation of the next government: The Religious Zionist Party on Tuesday night accused the Likud of retracting all the previous agreements that had been reached in the coalition negotiations.
"Unfortunately, the Likud tonight retracted the agreements reached last night and in essence returned the negotiations to the starting point," the party said in a statement published shortly after midnight.
A source in the Religious Zionist Party told Israel National News that Likud's negotiating teams retracted not only the agreements regarding the positions and ministerial portfolios that would be given to the party, but also on the ideological issues and matters related to Judea and Samaria that were agreed upon.
The Likud said in response: "Contrary to the announcement of the Religious Zionst Party, the Likud did not retract any agreement. It was agreed with Bezalel Smotrich that he would serve first as Minister of Finance in a rotation and receive the Ministry of Settlement Affairs and the Ministry of Aliyah and Integration. This is a fair agreement by all accounts, and the Likud stands behind it."
"At the same time, the Likud did not agree to comply with new demands made by Smotrich after the agreement was reached, to remove a long list of departments from the other government ministries and transfer them to the Ministry of Finance as well," the Likud announcement said.